*Sponsored by

Hey Boardroom!
Today I want to pose a question – what do you think of when you hear the word Alternative?  For those of us of a certain age, the word elicits a musical connotation of a simpler time when Alternative Rock was a mainstay of radio and MTV.  If you remember when MTV played music videos you should probably take some ibuprofen for your back!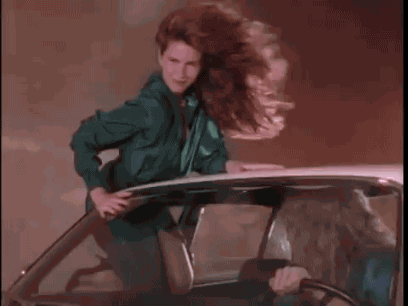 The nineties and 2000s were also when investing became truly democratized due to internet brokerage, individual investors with online accounts and high speed internet could invest and trade in an efficient manner without paying commissions and fees that bordered on usury.  We are now in a time where a different type of investing has become democratized – the private company markets.
On this note, a couple of months ago, we introduced you to KingsCrowd here in the Boardroom.  KingsCrowd is a platform that brings individual investors high quality information about private investment markets and helps narrow down the field of possible investments.


Today I want to highlight some of the types of investments that are available to research through the KingsCrowd platform.  Typically when you hear the term alternative investments, you tend to think of asset classes like real estate, fine art, watches, collectible wine, etc. but with KingsCrowd you get a window into early stage operating companies in a variety of industries.  Rather than speculating on painting or a piece of land to go up in price, you are buying into a business early in its lifecycle and (hopefully) going along for the ride as it grows and matures.
Previously we ran through a case study on how to filter and build a watch list using the platform, and today I just want to give you a quick overview of the types of investments available with as few clicks as possible.  
From the company's homepage, if you click on Trending Companies under the menu you are quickly taken to a page featuring the investments that have had heavy activity in recent days.  When I searched, it looked like this: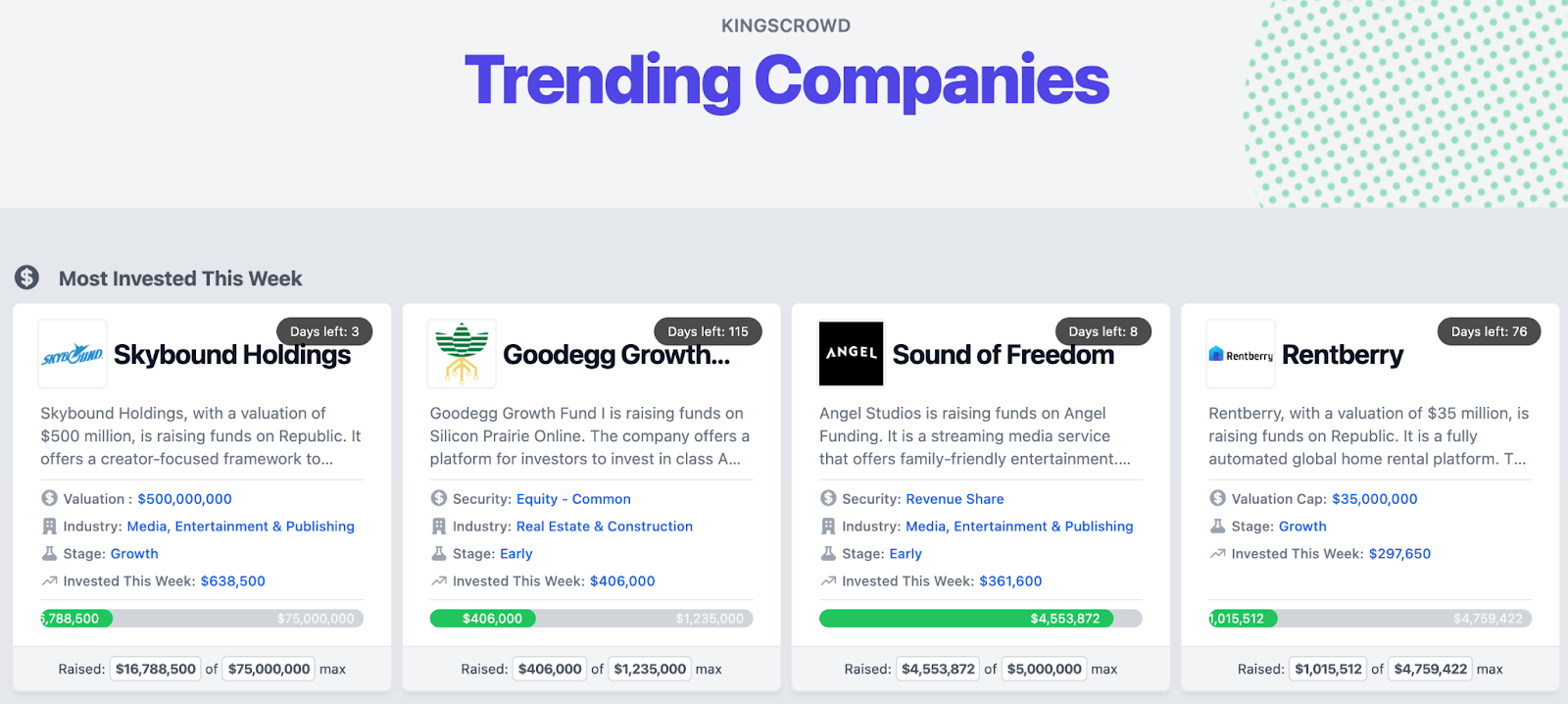 If you scroll down, you will see new deals, deals closing soon and those likely to sell out.
Some of the companies currently on the trending page are a streaming media service focused on family friendly entertainment, a breakfast restaurant in Chicago, and a couple of boutique coffee roasters.  
When you see something that looks interesting you can go in depth to see a company's current funding situation, KingsCrowd's rating on the company, financials, and investment memorandum.  Below is an example of the one-click info you can get to from the trending page for a company called Fire Department Coffee.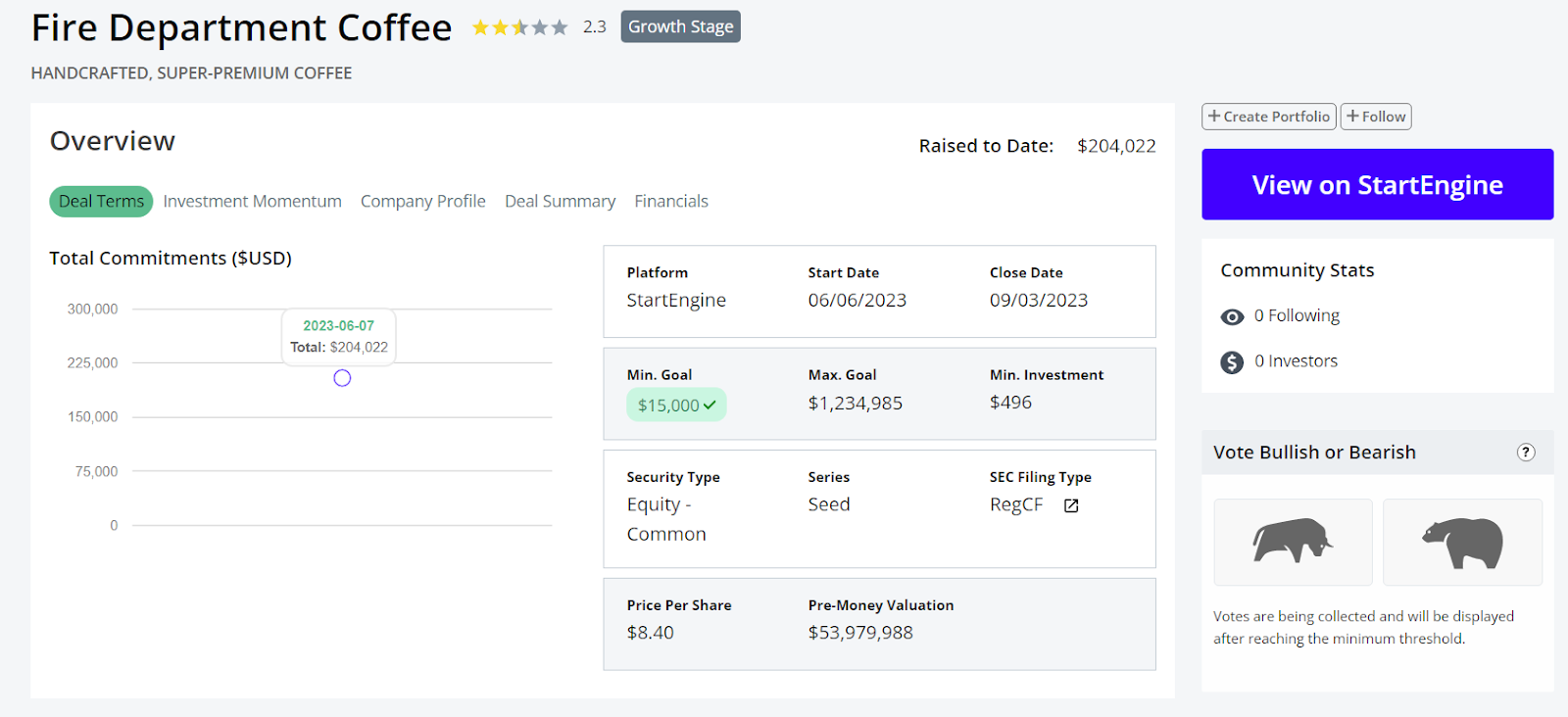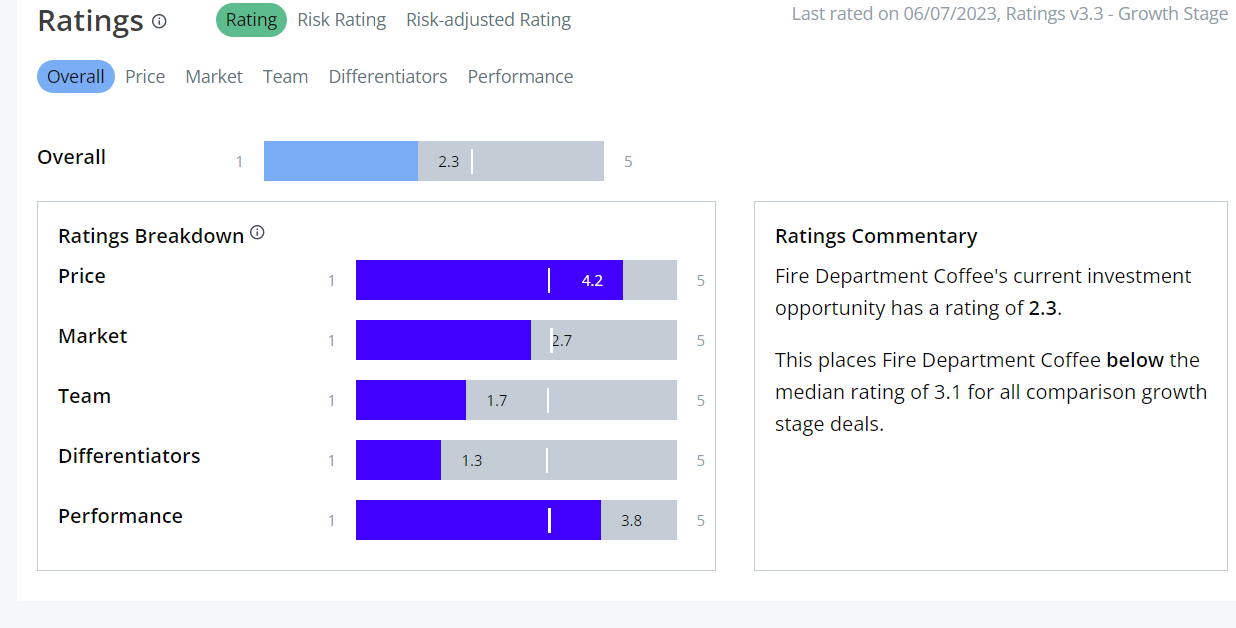 From there you can quickly navigate to the financials to start digging in deeper and see if a particular company is right for your portfolio.  If you don't want to browse the trending page though, you can skip right to the companies that KingsCrowd has rated the best of class by running a search for companies rated a 5.  This brings you a list of 59 companies to start your research where the good people of KingsCrowd have done the heavy lifting for you.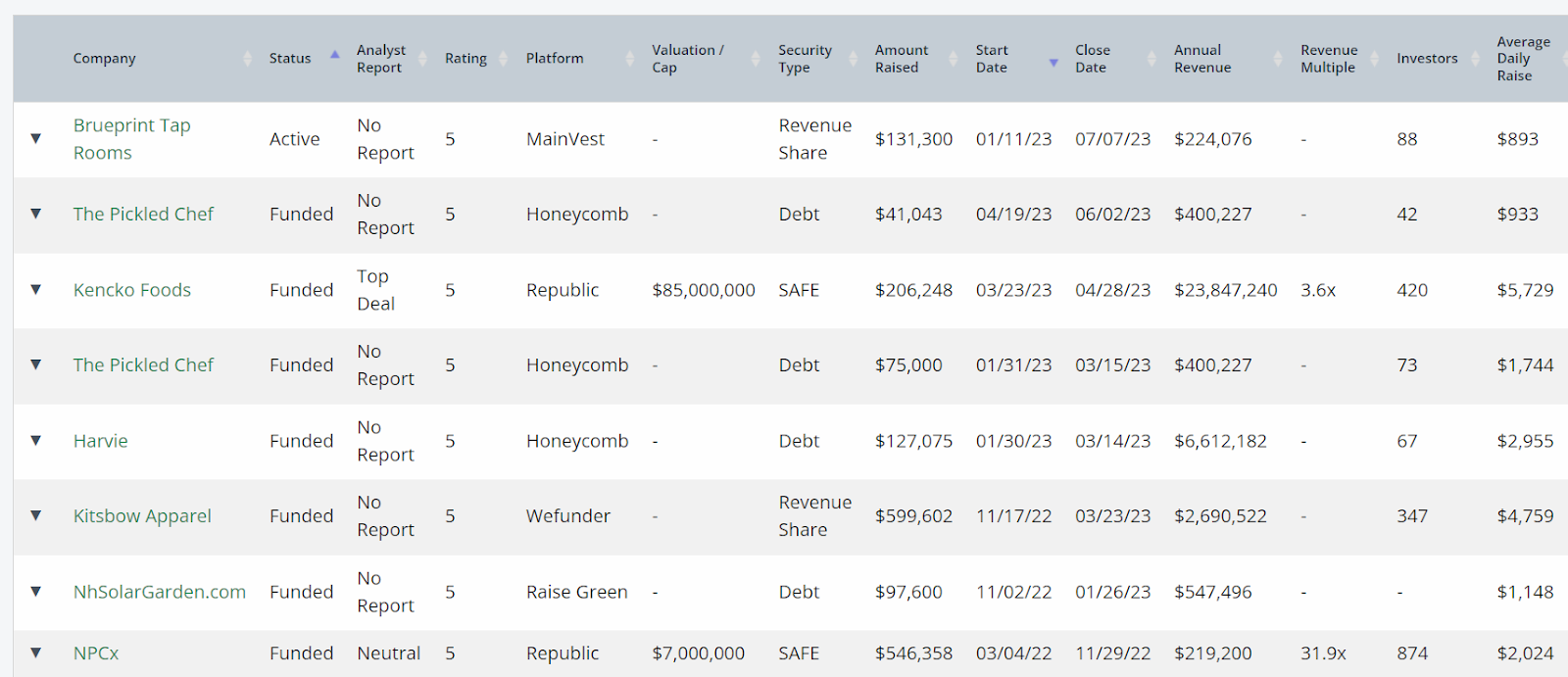 Some of you may want to focus your research energy on the public markets though, and outsource private market investments to the experts.  KingsCrowd has you covered there via their investment fund that is currently open to new accredited investors.
The fund offers access to private markets using its quantitative approach and is the first in the space, which KingsCrowd estimates was $30 billion in 2020 and they expect to grow to $13 trillion in the next 10 years (1:08 mark of the investor presentation which is at the bottom of the page).  You've heard of getting in on the ground floor, this is more like pulling up a chair as the foundation is being poured. 
Check out the fund overview here.
Oh, and by the way,  KingsCrowd is conducting a Reg A offering process with shares currently priced at $1.00 each and a minimum investment of $1,000.  
Check out the offering here. 
In the online private investing space, these guys have built the vessel that brings the mountain to Mohammed by aggregating all the relevant information investors need to invest with confidence.  KingsCrowd provides several ways to play the private markets via direct investment into individual companies or by fund.  Information that was previously hard to find and verify is now available in a single easy to use platform.  Investors that want the potentially outsized returns available in the private markets need a tool like KingsCrowd on their side if they want to navigate these previously uncharted waters with confidence. 
I implore you to  check all the details out HERE before this offering closes and you miss your window.
*please see disclosures below
---
DISCLAIMER: To more fully understand RagingBull.com, LLC's issuer-paid advertisement disclaimer and disclosure policy located at https://ragingbull.com/paid-advertisement-disclaimer/.
*ISSUER-PAID ADVERTISEMENT: This Issuer has paid RagingBull.com, LLC ("Raging Bull") fifteen thousand four hundred fifty dollars to run advertisements enhancing public awareness of the company.  
FOR EDUCATIONAL AND INFORMATION PURPOSES ONLY; NOT INVESTMENT ADVICE. Any RagingBull Service offered is for educational and informational purposes only and should NOT be construed as a securities-related offer or solicitation, or be relied upon as personalized investment advice. Raging Bull strongly recommends you consult a licensed or registered professional before making any investment decision.
SUBSTANTIAL RISK INVOLVED. Any individual who chooses to invest in any securities of the companies mentioned in this Advertisement should do so with caution. Investing or transacting in any securities involves substantial risk; you may lose some, all, or possibly more than your original investment. Investing in the private companies discussed in this Advertisement is highly risky. There is currently no market for trading or liquidating the securities discussed in this Advertisement and there is no guarantee that a market will develop in the future. Readers of this Advertisement bear responsibility for their own investment research and decisions and should use information from this Advertisement only as a starting point for doing additional independent research in order to allow individuals to form their own opinion regarding investments. It is easy to lose money INVESTING OR trading, and we recommend always seeking individual advice from a licensed or registered professional and educating yourself as much as possible before considering any investments.
RAGINGBULL IS NOT AN INVESTMENT ADVISOR OR REGISTERED BROKER. Neither Raging Bull nor any of its owners, employees OR INDEPENDENT CONTRACTORS is CURRENTLY registered as a securities broker-dealer, broker, investment advisor (IA), or IA representative with the U.S. Securities and Exchange Commission, any state securities regulatory authority, or any self-regulatory organization.
RagingBull.com, LLC shall be entitled to recover attorneys' fees, costs and disbursements.  In the event that any suit or action is instituted as a result of doing business with RagingBull.com, LLC and/or its affiliates or if any suit or action is necessary to enforce or interpret these Terms of Service, RagingBull.com, LLC shall be entitled to recover attorneys' fees, costs and disbursements in addition to any other relief to which it may be entitled.