It's relatively a new month and a great time to find new investments.  Hopefully by now you've had a chance to check out a private investing opportunity from our partner in the Boardroom by now.  The platform simplifies the process for finding quality information on private markets, which has traditionally been a tough putt for individual investors.  Here's more of that story from the Boardroom.
Welcome to May, and I hope you were able to bear the barrage of horrible Star Wars jokes on Thursday – luckily I do so by avoiding Facebook 🤣
But, speaking of fantasy…🧙🪄

Imagine a world where equity analysts were straightforward and gave their honest opinions about the company they cover. A world where ratings were as simple as "Buy" and "Don't Buy" rather than a bunch of nonsense like "Outperform." My favorite move is when a company misses estimates, gets hammered in the market, then the analysts respond by lowering their price targets. Why doesn't their analysis ever seem to pick up on these things beforehand?
If research on public companies isn't great, then surely private company research is nonexistent right?
Wrong!  
The folks at KingsCrowd  recognized the dearth of information available to individual investors in the private markets so they built the platform that is democratizing access to high quality actionable data.  
What would previously take an investor hours and hours to do surfing through the various crowdfunding sites now can be done in just minutes using the KingsCrowd tool suite, and thanks to their proprietary rating methodology, investors can instantly get a list of the companies most likely to become long term winners. Its data looks like this: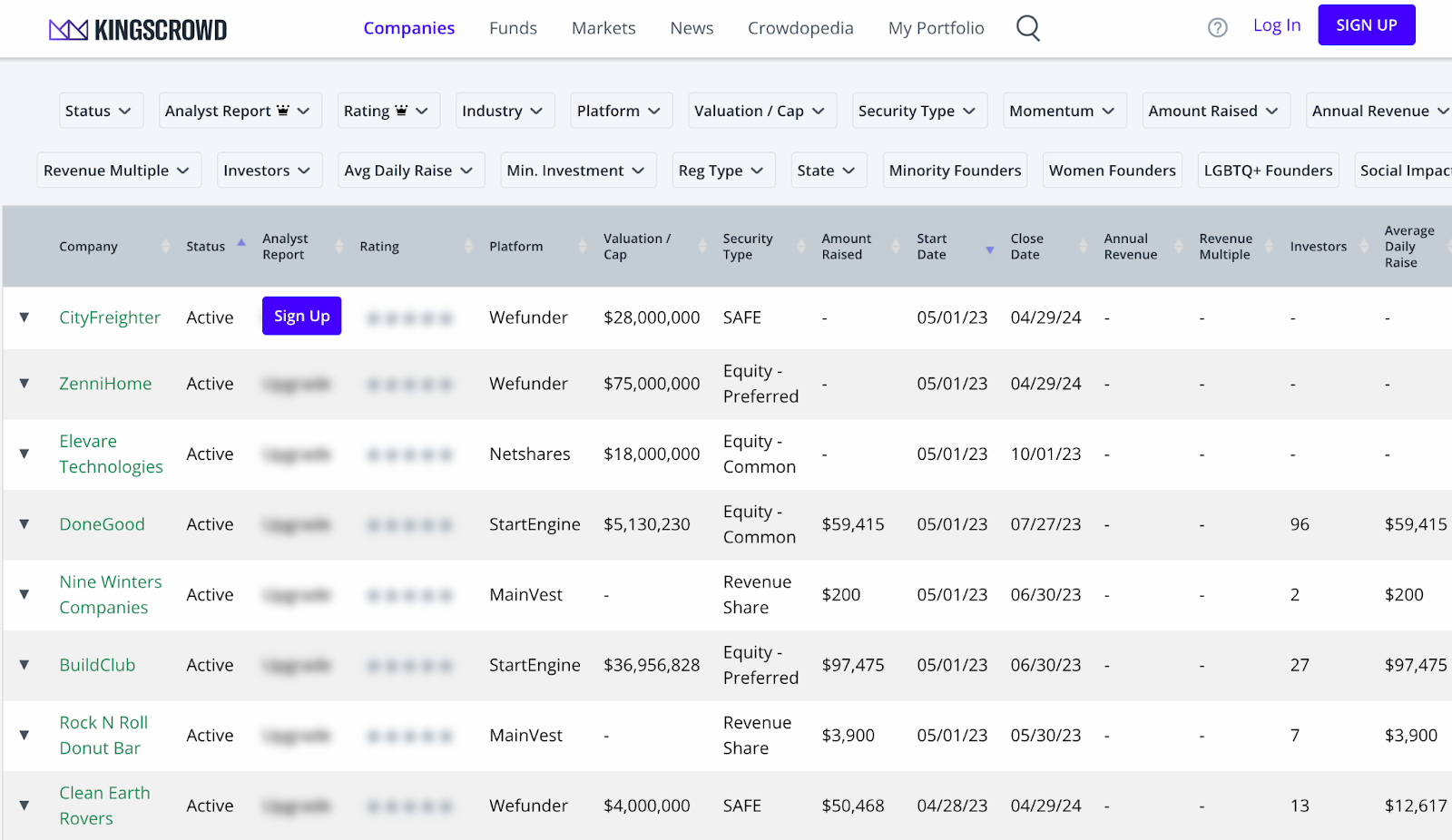 And if you didn't notice the top of that webpage👆, you can quickly sift through mountains of data based on rating, industry, geography, women owned, and other drivers to find a tailored list of companies to dive into.  Check that out 👇:

Even if you aren't ready to pull the trigger on a particular investment, the tool allows you to build a portfolio of companies to track so you can test your analysis and track performance before committing capital, dipping your toes in the private market waters.
You might remember a few weeks back when we spoke with Chris Lustrino, founder and CEO of KingsCrowd on the history of the company, and how his background in private equity led him to build a solution for an underserved market. 
If you haven't seen it yet, or just need a refresher, Here is the interview which introduced us to KingsCrowd, and be on the lookout as we are trying to get Chris back for a second sit-down with us some time in later this month.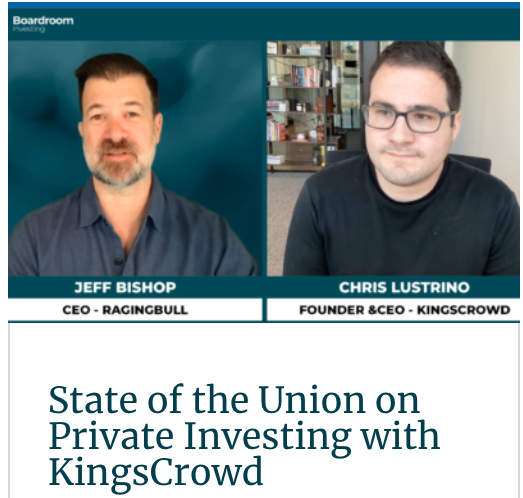 The KingsCrowd platform can not only help investors who take an active approach to finding portfolio companies, but those who prefer a passive style as well.  
⭐The company manages a fund consisting of 100 startups that it has rated highly through its internal research, giving investors a diversified way to own a group of high growth companies in the early innings.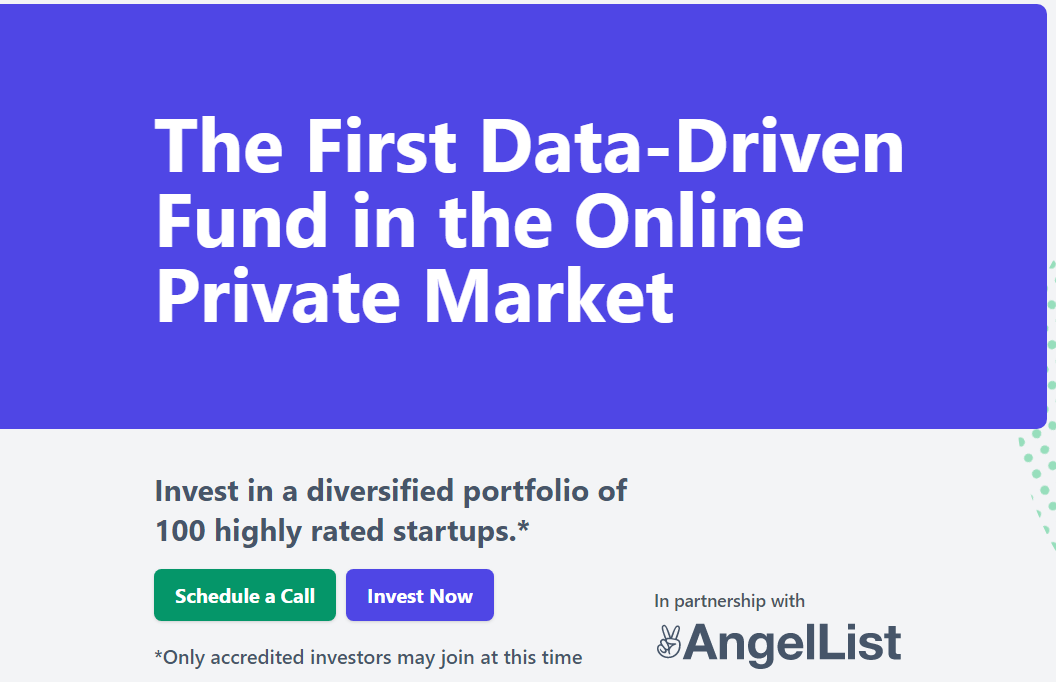 As of now the fund is open accredited investors so check it out if you meet the qualifications and are looking for a data driven way to get into startups.
So to simplify the opportunities with KC:
You can become a user of their services to research your own private investing opportunities

You can Invest in KC's FUND of private investments

You can also invest in KingsCrowd itself as a private investor
To this third point,  Kingscrowd is in the middle of its own Reg A offering with shares currently priced at $1.00 each and a minimum investment of $1,000.  Check out the offering here. 
There really is nothing like out there in the private investing space, with so many unique opportunities Chris Lustrino and his team at KingsCrowd are pursuing.  
So I encourage you to check all the details out HERE while this offering is still open.
DISCLAIMER
: To more fully understand RagingBull.com, LLC's issuer-paid advertisement disclaimer and disclosure policy located at 
https://ragingbull.com/paid-advertisement-disclaimer/
.
*ISSUER-PAID ADVERTISEMENT: This Issuer has paid RagingBull. com, LLC ("Raging Bull") fifteen thousand four hundred fifty dollars to run advertisements enhancing public awareness of the company.
FOR EDUCATIONAL AND INFORMATION PURPOSES ONLY; NOT INVESTMENT ADVICE. Any RagingBull Service offered is for educational and informational purposes only and should NOT be construed as a securities-related offer or solicitation, or be relied upon as personalized investment advice. Raging Bull strongly recommends you consult a licensed or registered professional before making any investment decision.
SUBSTANTIAL RISK INVOLVED. Any individual who chooses to invest in any securities of the companies mentioned in this Advertisement should do so with caution. Investing or transacting in any securities involves substantial risk; you may lose some, all, or possibly more than your original investment. Investing in the private companies discussed in this Advertisement is highly risky. There is currently no market for trading or liquidating the securities discussed in this Advertisement and there is no guarantee that a market will develop in the future. Readers of this Advertisement bear responsibility for their own investment research and decisions and should use information from this Advertisement only as a starting point for doing additional independent research in order to allow individuals to form their own opinion regarding investments. It is easy to lose money INVESTING OR trading, and we recommend always seeking individual advice from a licensed or registered professional and educating yourself as much as possible before considering any investments.
RAGINGBULL IS NOT AN INVESTMENT ADVISOR OR REGISTERED BROKER. Neither Raging Bull nor any of its owners, employees OR INDEPENDENT CONTRACTORS is CURRENTLY registered as a securities broker-dealer, broker, investment advisor (IA), or IA representative with the U.S. Securities and Exchange Commission, any state securities regulatory authority, or any self-regulatory organization.
RagingBull.com, LLC shall be entitled to recover attorneys' fees, costs and disbursements.In the event that any suit or action is instituted as a result of doing business with RagingBull.com, LLC and/or its affiliates or if any suit or action is necessary to enforce or interpret these Terms of Service, RagingBull.com, LLC shall be entitled to recover attorneys' fees, costs and disbursements in addition to any other relief to which it may be entitled.