In case you've missed it, we have a HUGE investing opportunity for you guys…
…like $100B+ huge!!!
Aura Health has exploded into the wellness industry and they are on FIRE 🔥
And as the need for various wellness resources rapidly grows, so does the 4.8 TRILLION dollar industry. There is a massive market opportunity in mental wellness for the 1 billion people in need of support. A problem this big requires an even bigger solution.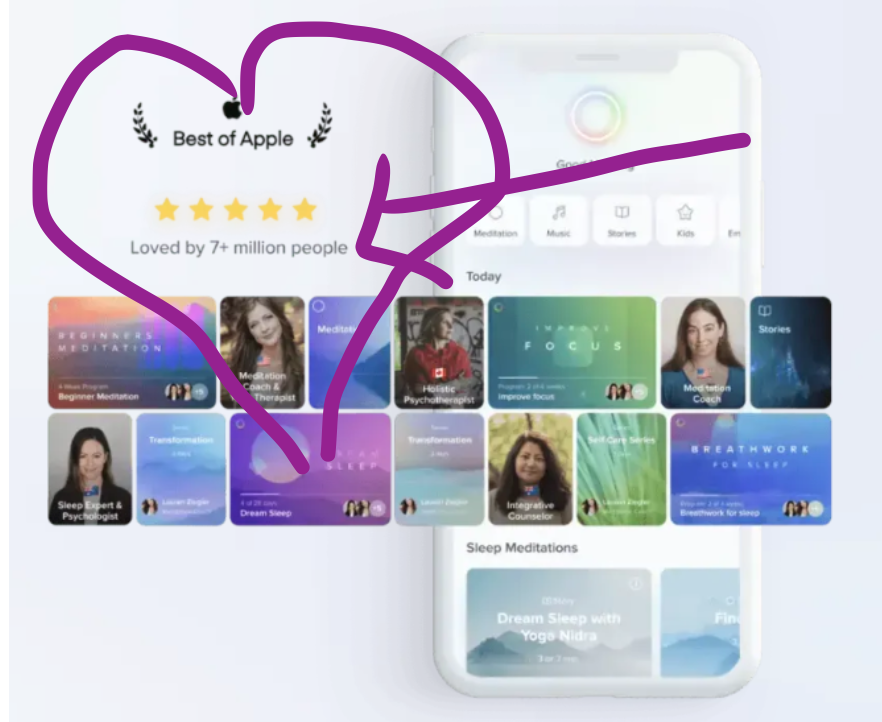 Yes that says LOVED by 7+ million people
I highly encourage you to check out the impact Aura Health is having HERE to become part of the movement that is transforming hundreds of millions of peoples' lives.
If you missed our interview with Co-Founder & CEO, Steve Lee, I encourage you to review, especially the background of what led these uber-talented brothers  (brothers who both made it onto Forbes 30 under 30!!!) to found Aura.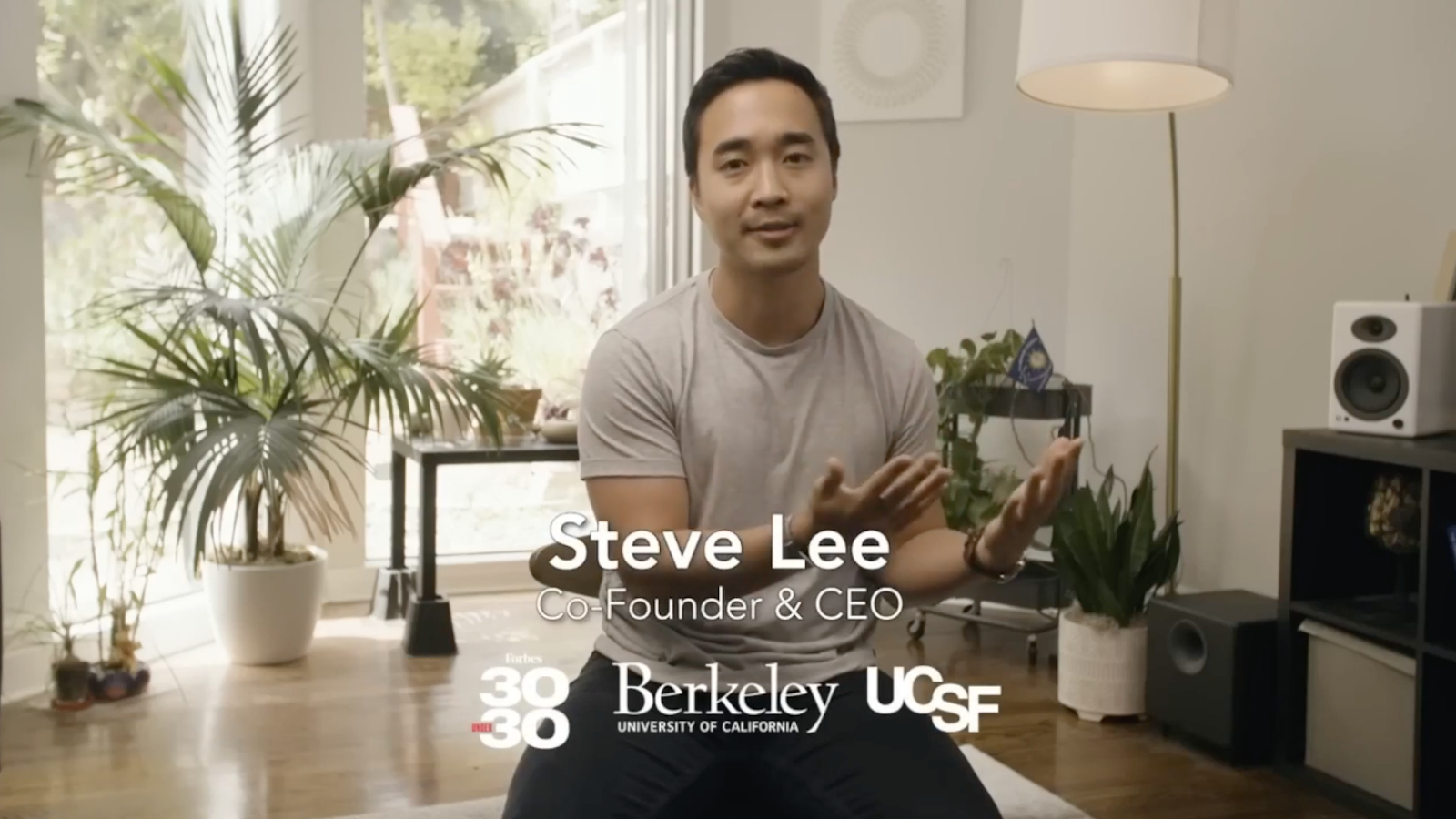 Steve and Daniel Lee have truly created the Spotify of mental health: a community where therapists and coaches provide personalized content for the app's subscribers. Imagine a stress-reducing playlist that actually works – just watching this gif makes me less stressed (but more tired lol).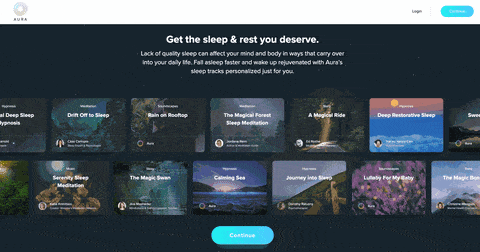 With hundreds of millions of monthly listeners, I think it's safe to say that everyone knows about Spotify (unless you've been living under a rock 🪨 or are too old to fuss with technology). Aura works like Spotify, but its focus is on bettering mental and emotional health.
The more coaches and therapists that create on the platform, the more subscribers are attracted to the vast array of content. Marketplaces that aggregate new content and continuously improved services (like Aura Health!!!) tend to grow like CRAZY.  Check out this FLYWHEEL: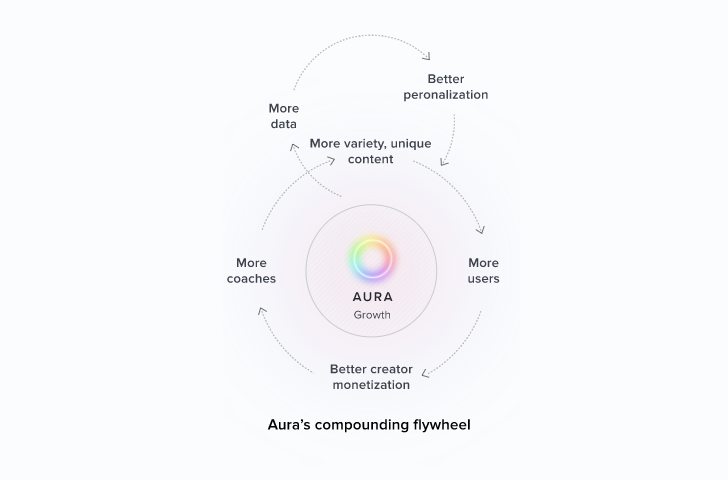 What is a flywheel you say? A flywheel  effect happens when small wins for a business BUILD on each other over time and ultimately gain so much MOMENTUM that growth almost seems to happen by itesle.
Hmmm…growth happening by itself…that is literally MUSIC to an investor's ears and may be akin to the holy grail of business practices. 
So, not only do I love the compounding growth opportunity of Aura, I love seeing this from a company that is making such a positive impact on society.  As investors, we have the opportunity to be a part of some incredibly impactful work – like restoring the world's mental health with Aura. 
DO NOT miss out on the chance to invest in Aura's first public round. Open only for a LIMITED TIME, check out this incredible opportunity to invest alongside some of Silicon Valley's leading investors including the founders of Spotify, Apple, Facebook and Twitter. 😱
Check our more details HERE including BONUS SHARES for larger investors and $1 shares available until April 28th! Who doesn't love free stuff???
Keep following along to hear more about this amazing company before this Round closes and you miss you out!
To YOUR succes!
DISCLAIMER: To more fully understand RagingBull.com, LLC's issuer-paid advertisement disclaimer and disclosure policy located at https://ragingbull. com/paid-advertisement-disclaimer/.
*ISSUER-PAID ADVERTISEMENT: 
This Issuer has paid RagingBull.com, LLC ("Raging Bull") eight thousand dollars to run advertisements enhancing public awareness of the company. 
FOR EDUCATIONAL AND INFORMATION PURPOSES ONLY; NOT INVESTMENT ADVICE. Any RagingBull Service offered is for educational and informational purposes only and should NOT be construed as a securities-related offer or solicitation, or be relied upon as personalized investment advice. Raging Bull strongly recommends you consult a licensed or registered professional before making any investment decision.
SUBSTANTIAL RISK INVOLVED. Any individual who chooses to invest in any securities of the companies mentioned in this Advertisement should do so with caution. Investing or transacting in any securities involves substantial risk; you may lose some, all, or possibly more than your original investment. Investing in the private companies discussed in this Advertisement is highly risky. There is currently no market for trading or liquidating the securities discussed in this Advertisement and there is no guarantee that a market will develop in the future. Readers of this Advertisement bear responsibility for their own investment research and decisions and should use information from this Advertisement only as a starting point for doing additional independent research in order to allow individuals to form their own opinion regarding investments. It is easy to lose money INVESTING OR trading, and we recommend always seeking individual advice from a licensed or registered professional and educating yourself as much as possible before considering any investments.
RAGINGBULL IS NOT AN INVESTMENT ADVISOR OR REGISTERED BROKER. Neither Raging Bull nor any of its owners, employees OR INDEPENDENT CONTRACTORS is CURRENTLY registered as a securities broker-dealer, broker, investment advisor (IA), or IA representative with the U.S. Securities and Exchange Commission, any state securities regulatory authority, or any self-regulatory organization.
RagingBull.com, LLC shall be entitled to recover attorneys' fees, costs and disbursements.In the event that any suit or action is instituted as a result of doing business with RagingBull.com, LLC and/or its affiliates or if any suit or action is necessary to enforce or interpret these Terms of Service, RagingBull.com, LLC shall be entitled to recover attorneys' fees, costs and disbursements in addition to any other relief to which it may be entitled.