*Sponsored by RAD AI
Happy weekend, I hope you all are well. I wanted to switch gears a bit from the public markets and pass on this Deep Dive (below) from our buddies at Alts on one of our longest-standing Boardroom Partners, RAD AI.  
(You can follow along with all our private investing updates by joining Boardroom Investing.)
The Boardroom has been following RAD's journey for quite some time along with CEO & Founder Jeremy Barnett.  The Boardroom will be conducting a final interview for their current Raise with Mr. Barnett this Thursday, April 27th at 1pm EST in the 360 Chatroom. 
👉 Bookmark this LINK to join RAD's Webinar Thursday 1pm EST.
And RAD's Raise is closing by April 30th (or sooner depending on funding!) – and as always we like to check in with the "Old Faithful" of private investing, creeping up to $4 MIL → would you look at that?!?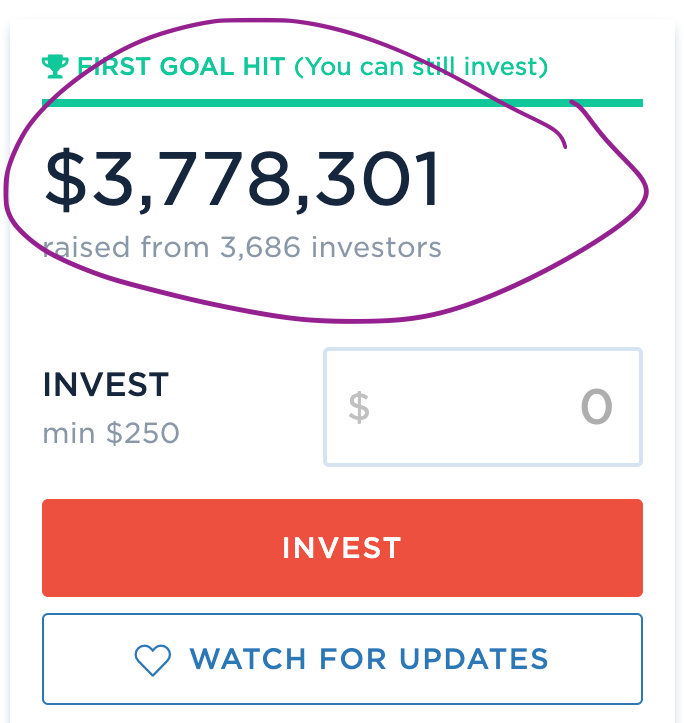 To dig in a little more…we have included EXCERPTS from the Alts Deep Dive below that you might find helpful in your consideration to invest in RAD AI…where all the details can be found HERE:
  LEARN MORE ABOUT INVESTING IN RAD AI HERE
Get your popcorn 🍿 and happy reading – and come prepared with all your questions or Jeremy on Thursday!  See you then.

The world of Martech
We don't need to tell you how important marketing is. The industry is worth a whopping $155 billion in the US alone.
The marketing technology sub-sector has been gaining traction. You're looking at a CAGR of 44% over the past 12 months.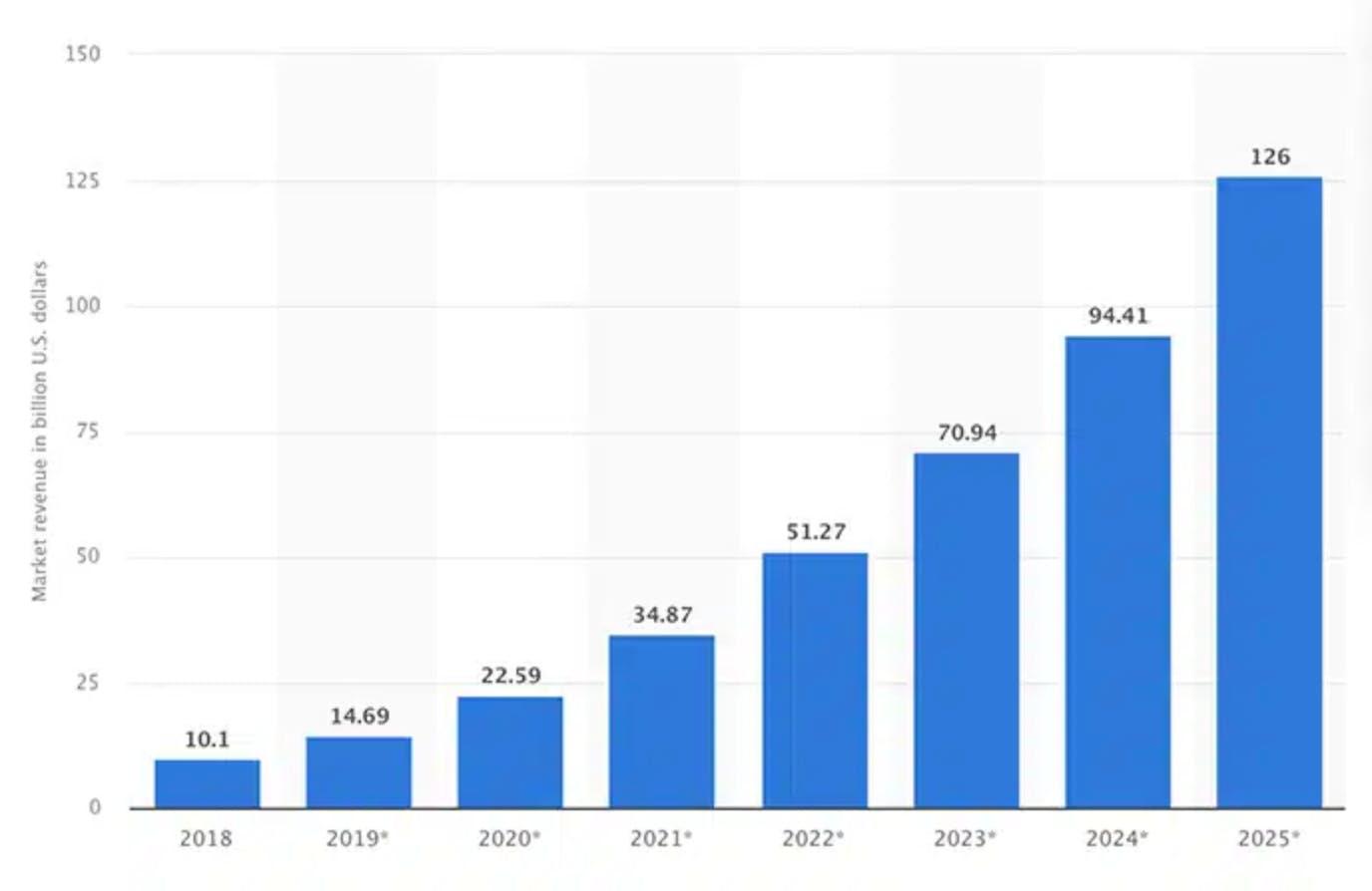 The artificial intelligence (AI) software market has experienced explosive growth in recent years too — just look at the revenues worldwide from 2018 to 2025 (in billion U.S. dollars)
You'd think that with so much money pumping into the industry, marketing optimization wouldn't be an issue, right?
Well, in reality, content marketing is still a black box of confusion. All businesses want to find something that resonates, but are usually way out of touch with what people really want (which is authenticity)
​33% of marketing budgets go to waste — that's almost $75 billion each year. People are bombarded with lazy, numb ads which get ignored and deleted.
The solution: RAD AI
RAD AI believes they have the key to accurate, authentic marketing. They know customers want to be spoken to, not at. Their platform uses AI to tell businesses not just what content to make, but also why.
The backbone of RAD's authenticity is its artificial intelligence, which analyzes what real people on the internet are saying.
It all begins with their API partner Reddit. As most of us know, Reddit prioritizes authentic conversations between real people sharing their honest experiences, opinions, and feelings. This makes Reddit particularly relevant for marketers looking to better understand target audiences and the messaging they care about most. .

Think Reddit comments, Twitter statuses, and blog posts. RAD AI takes all this noise and wraps it into a neat, digestible package that businesses can use to create authentic marketing campaigns.
RAD AI correlates real-time conversations across the web with demographics, in order to provide businesses with this very important context.
And the cool part about RAD AI's tech is that it offers intelligence before the business starts their marketing campaigns.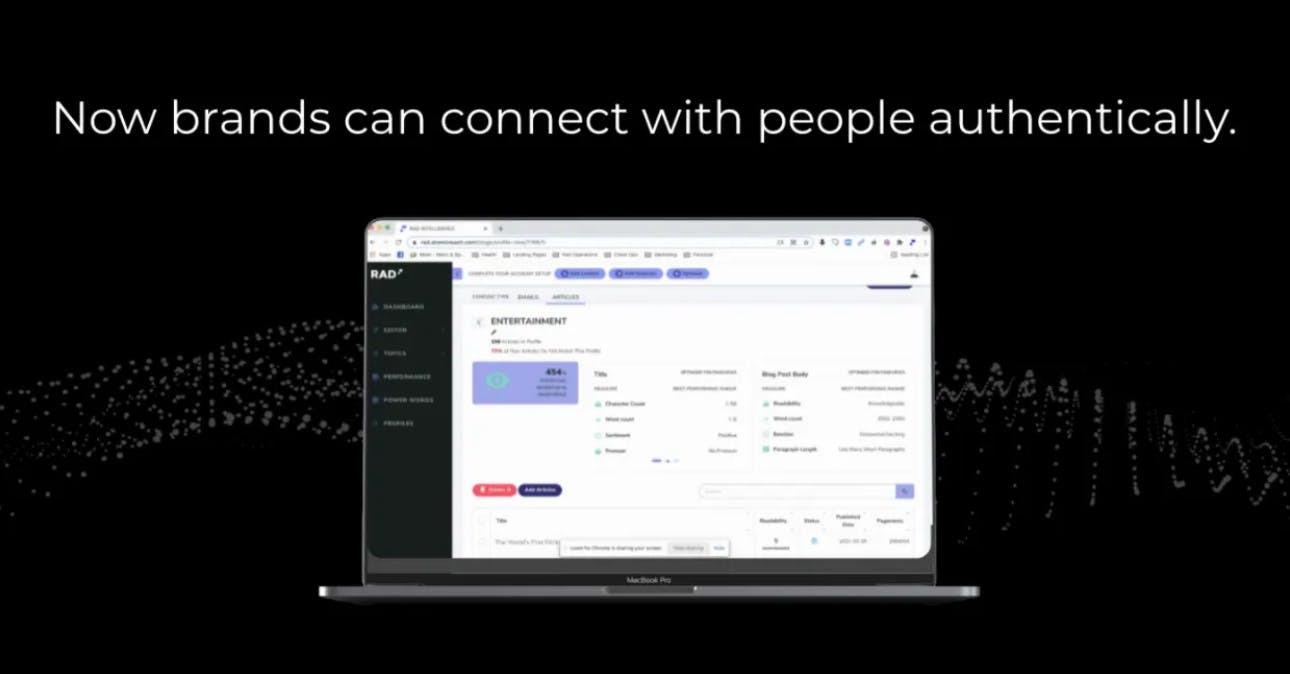 Can AI content still be authentic? RAD AI thinks so. Their platform translates marketing gibberish into authentic language that resonates.
RAD AI's team
RAD AI has a pretty small team — less than 25 people.
​Jeremy Barnett is the CEO. He co-founded the fashion tech company Trendy Butler in 2013, which reached an ARR of $35+ million within three years.
In a recent coup, RAD AI welcomed Alex Wissner-Gross to its team. Alex has a PhD in Physics from Harvard University, 23 patents, and just sold his previous company for $600M.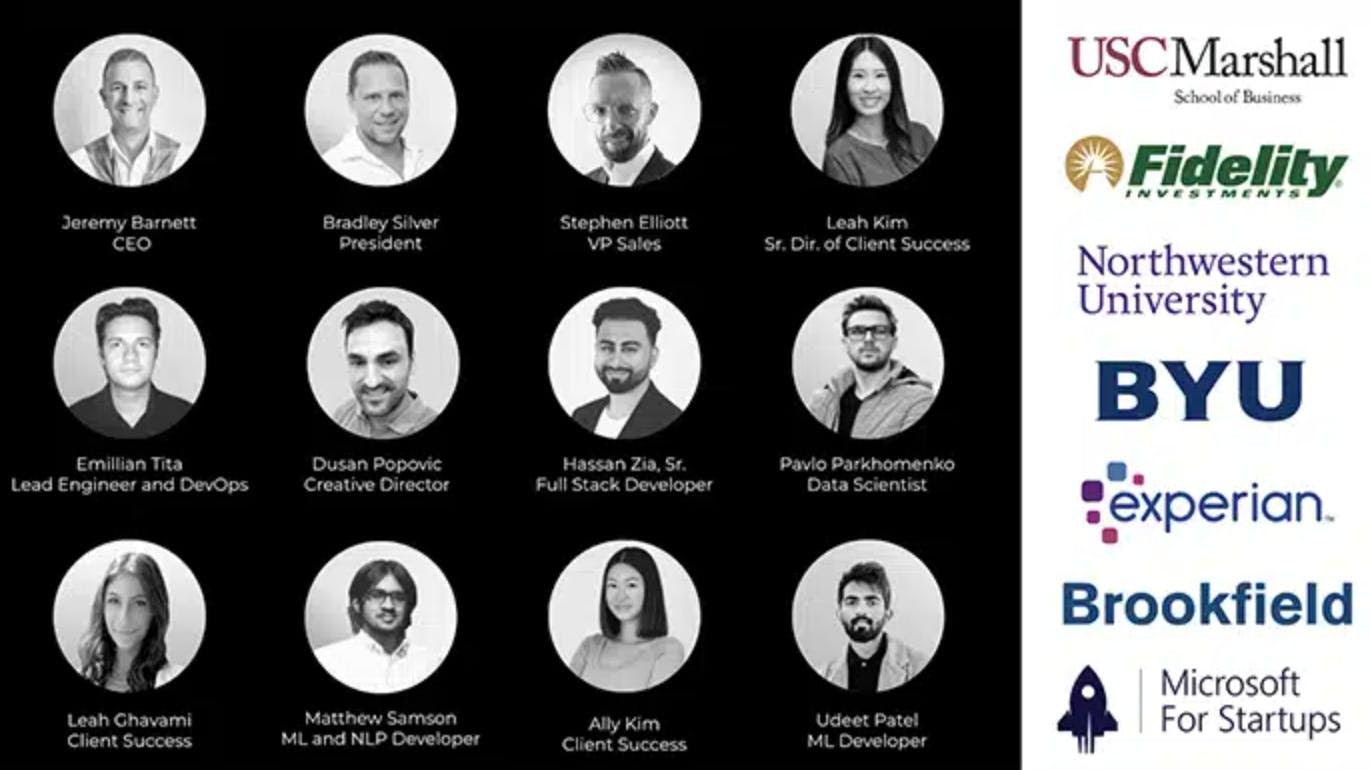 The team is small, but it has achieved six exits so far.
What sets RAD AI apart?
Content authenticity is king when it comes to marketing. But in order for companies to know what's "authentic", they need exposure to what the customers are actually saying.
The framework for RAD AI's success is a $20 million R&D investment.
This focus on creating a powerful product is where RAD AI gains its competitive advantage. The proprietary AI tech, acquired from Atomic Reach, has an accuracy rating of 92% from over 100 million marketing impressions.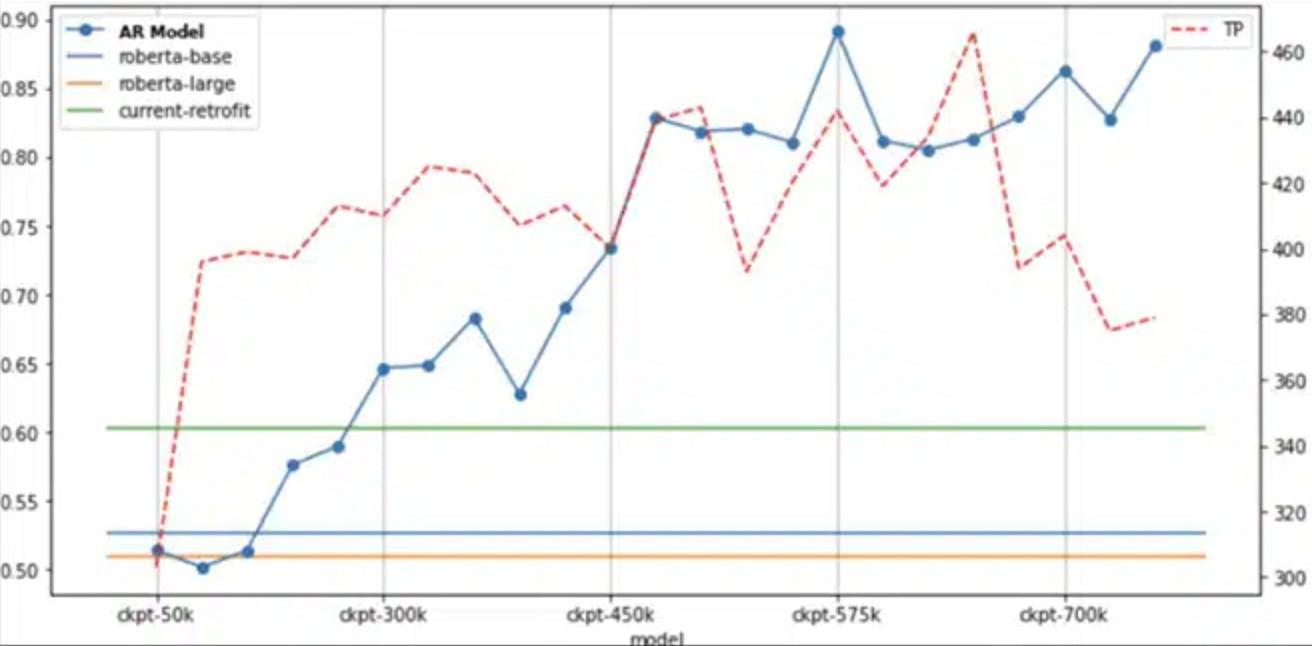 RAD's AI even beats Bert, Google's language AI, by 30%.
The tech is powerful enough to scrape information from over ten years of historical data and 550m web pages, in order to create reliable, unbiased, and authentic marketing campaigns.
The team also has a grant from the Canadian Government with 40% of dev costs subsidized.
ChatGPT 4 integration
RAD recently integrated Chat GPT-4 through their API to take their client and product offering to the next level.
They basically take Chat GPT-4 recommendations and score them based on how their own AI predicts each creative concept will perform.
RAD's tech combined with Chat GPT-4 will deliver unbiased creative intelligence for clients and produce quantifiably better ROI.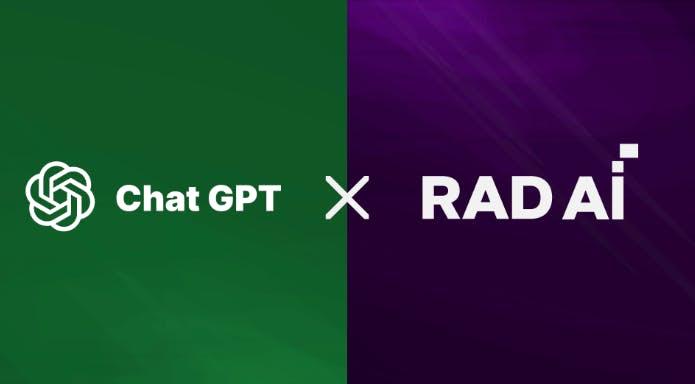 Case study: AI vs regular content
RAD's own research has demonstrated that AI-driven marketing campaigns significantly outperform others.
One of RAD AI's most successful campaigns was for a major company in the entertainment industry, who wanted to measure AI vs non-AI content.
The business saw an impressive 3x ROI over their previous marketing efforts.
The process
To get that 3x ROI, they had to go through a few steps:
First, RAD AI used its technology to perform pre-campaign analysis by browsing Reddit, TikTok, Instagram, and other social media outlets, to find the perfect target audience.

Once the audience had been identified, it was time for RAD AI and the company to develop a content strategy.

Finally, the content for the marketing campaign was created and distributed across multiple media channels.
In this case, RAD AI managed to identify micro-communities — an incredibly important segment for entertainment providers to tap into.
The results
The business recorded a

197%

increase in engagement rate with content

The creation of

397

content pieces

Over

6.8m

impressions

Over

750k

engagements

On average, their customers see a 4x increase in content volume for the allocated budget, and experience a 250% performance increase across every digital marketing channel.
In a similar case, a client in the men's vitality industry was starting a new marketing campaign with written, visual, and audio elements. They went to RAD with the idea that they should target men in their 40s and 50s who may have some trouble…er, getting it up.
But as it turns out, this wasn't actually their biggest market. It was 20 to 30-year-old men. (Yikes!)
If you think about it, most older men with performance setbacks are probably going to see their GP. But RAD AI realized that younger men building their careers and always on the move may need that extra little edge.
RAD AI gave the company valuable demographic data to guide them during targeting.
Here's a video showcasing RAD AI in action: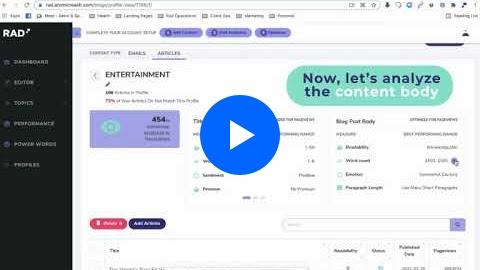 Investment opportunity
The investment is a priced round, hosted by WeFunder.
RAD AI has valued itself at $18m. This means the price of a share is worth ±$0.18.
If you're investing, you're essentially betting that the company's value will eclipse this figure in the future. Investors worldwide (well, except Canadians) can get involved for as little as $250.
This raise is going well so far. Over 3,500 people have invested $3.7m.
Fund distribution
Ultimately, the goal of this fundraiser is to scale the business while continuing to improve the underlying AI technology.
55% will be used to

develop

the primary AI product

20% of the raise will be used for building a

sales

team

20% will be used for

marketing

and brand management

5% will be used for Wefunder

fees
Financials & others
Let's look at some more company stats and details that are worth considering:
$2.2m

revenue run rate with

310%

YoY growth

In 2021, YoY revenue jumped from $169k to

$515,000

The company has $600k in liabilities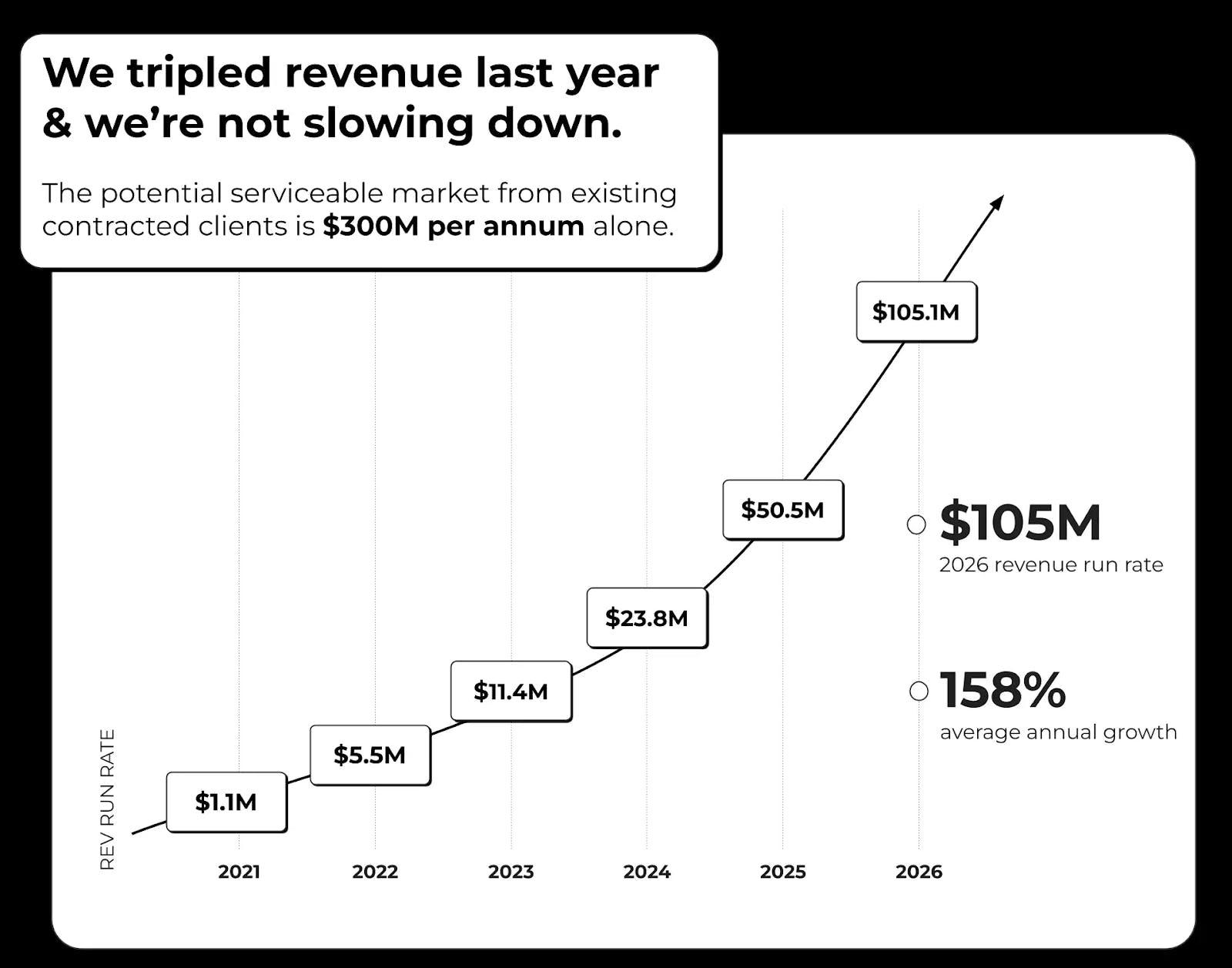 Remember that forward-looking projections cannot be guaranteed.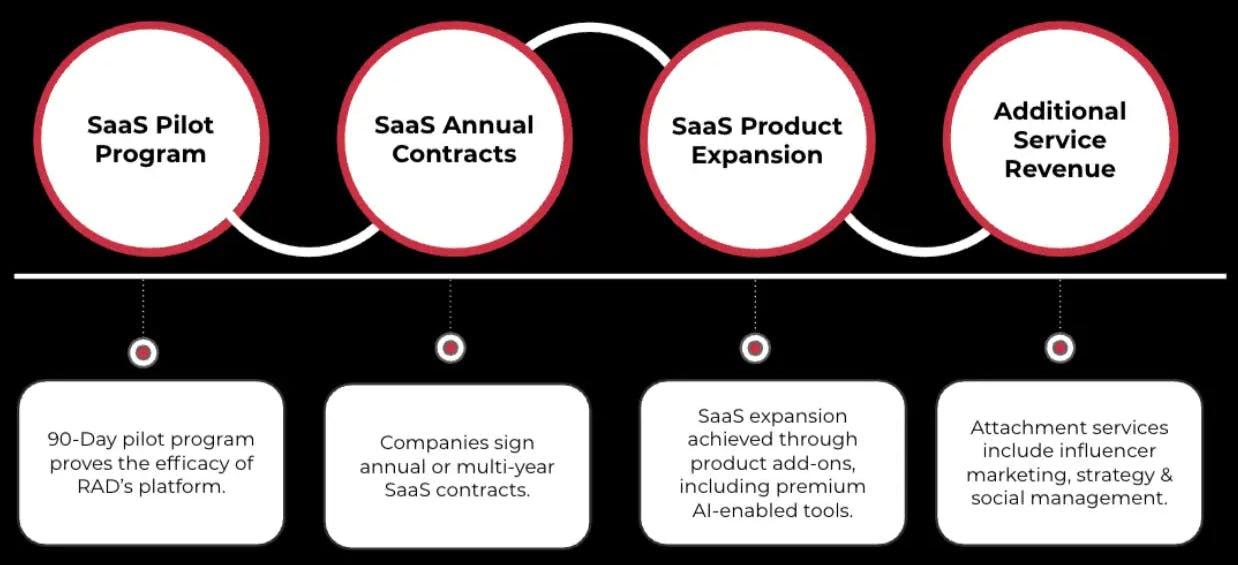 The "land and expand" strategy
What we like
Industry strength:

Investments in AI companies are

booming right now.

This can increase the odds of a future successful exit — whether through an increased valuation in subsequent funding rounds, acquisition, or IPO.

Total Addressable Market:

RAD AI's 2022 estimated revenue of $2.2m is just a fraction of the overall $155b spent annually on advertising in the US.

Client traction/market fit:

RAD AI already has clients using its services, which have produced impressive marketing campaign results. They're starting to work with

influencers

. There is clearly a market for what RAD AI offers.

Recurring nature of revenue:

SaaS clients often sign multi-year contracts, ensuring long relationships. Companies are often hesitant to eliminate/switch SaaS products that they rely on.

Constant updates

. RAD is busy with new product updates (like

RAD Visual Art

), and communicates each one extremely well.

Solid backing

. They have backing from Fidelity Investments, ($4 trillion AUM) and have been featured in

Bloomberg

,

TechCrunch

,

Nasdaq

.
Potential risks
Risks of startup investing:

Any investment in a startup is risky. Though RAD AI has shown impressive early results, there is no guarantee that they can scale to profitability and continue to win market share/customers.

Customer concentration:

RAD AI's current revenue base is concentrated amongst eight customers. The loss of one or multiple of them would significantly impact revenue and extend the timeline to profitability.

Marketing/R&D spend:

Like other SaaS companies, RAD AI will need to continue to spend significantly on R&D (improving their product) and sales/marketing efforts (extending awareness of their product and sell/upsell to increase their customer base).

Closing thoughts
Can AI content still be authentic? RAD AI thinks so.
The demand for authentic content that can generate an emotional response is obvious. Venue promoters, sports leagues, and hospitality companies are just some of the industries crying out for marketing innovations. RAD AI is offering access to artificial intelligence that understands emotions and delivers authentic content for the entire marketing mix.
The team's devotion to the technology is clear. The company's future success will depend on how well they continue to develop and implement it across various sectors.
Of course, investing could be risky (again, that's startups for you). But their management has an excellent track record of taking businesses to exit. There's no reason that RAD AI won't be the next successful business to join their glowing (and growing) portfolio.

Disclosures
(please note: these are alts disclosures and not the Boardroom's→ the Boardroom IS invested in RAD AI):
None of the authors of this issue currently own any shares or assets of RAD AI

We have no RAD AI shares or assets in the

ALTS 1 Fund

​
This issue has been a sponsored deep-dive, meaning Alts has been paid to write an independent analysis of RAD AI. RAD has agreed to offer an unconstrained look at their business & operations. RAD is a sponsor of Alts, but our research is neutral and unbiased. This should not be considered investment advice, but rather an independent analysis to help readers make their own investment decisions. All opinions expressed here are ours, and ours alone. We hope you find it informative and fair.
Notes (ALTS)
The authors of Alt Assets, Inc. are not finance or tax professionals. They are self-taught accredited investors, sharing information, research, and lessons learned. The published content is unique, based on certain assumptions and market conditions at the time of publishing, and is intended to serve solely as research, not financial advice. For entertainment purposes only. Not investment advice. Alts I LLC (the "Fund") is an affiliate of Alt Assets, Inc. and the Fund has conducted a private placement offering under Rule 506(c) of Regulation D of the Securities Act of 1933, as amended. The Fund may invest in one, several, or all of the alternative asset classes that Alt Assets, Inc. publishes content about on its site. Any of the Fund's investments that have positive designations on the Alt Assets, Inc. site are purely coincidental, as the Fund is actively managed and guided by its own investment parameters, as summarized in the relevant private placement memorandum. The newsletter may contain affiliate links, meaning that Alts.co and its associated entities may receive compensation for referring customers to the noted companies.
That concludes the Deep Dive from Alts.
Again, a big THANK YOU to alts for this exceptional overview of RAD AI – we are psyched to be able to pass it on.  
———————————————————————————————————————–
DISCLAIMER: To more fully understand RagingBull.com, LLC's issuer-paid advertisement disclaimer and disclosure policy located at https://ragingbull.com/paid-advertisement-disclaimer/.
*ISSUER-PAID ADVERTISEMENT: This Issuer has paid RagingBull.com, LLC ("Raging Bull") forty seven thousand five hundred dollars to run advertisements enhancing public awareness of the company. Raging Bull is currently invested in this company.
FOR EDUCATIONAL AND INFORMATION PURPOSES ONLY; NOT INVESTMENT ADVICE. Any RagingBull Service offered is for educational and informational purposes only and should NOT be construed as a securities-related offer or solicitation, or be relied upon as personalized investment advice. Raging Bull strongly recommends you consult a licensed or registered professional before making any investment decision.
SUBSTANTIAL RISK INVOLVED. Any individual who chooses to invest in any securities of the companies mentioned in this Advertisement should do so with caution. Investing or transacting in any securities involves substantial risk; you may lose some, all, or possibly more than your original investment. Investing in the private companies discussed in this Advertisement is highly risky. There is currently no market for trading or liquidating the securities discussed in this Advertisement and there is no guarantee that a market will develop in the future. Readers of this Advertisement bear responsibility for their own investment research and decisions and should use information from this Advertisement only as a starting point for doing additional independent research in order to allow individuals to form their own opinion regarding investments. It is easy to lose money INVESTING OR trading, and we recommend always seeking individual advice from a licensed or registered professional and educating yourself as much as possible before considering any investments.
RAGINGBULL IS NOT AN INVESTMENT ADVISOR OR REGISTERED BROKER. Neither Raging Bull nor any of its owners, employees OR INDEPENDENT CONTRACTORS is CURRENTLY registered as a securities broker-dealer, broker, investment advisor (IA), or IA representative with the U.S. Securities and Exchange Commission, any state securities regulatory authority, or any self-regulatory organization.
RagingBull.com, LLC shall be entitled to recover attorneys' fees, costs and disbursements.  In the event that any suit or action is instituted as a result of doing business with RagingBull.com, LLC and/or its affiliates or if any suit or action is necessary to enforce or interpret these Terms of Service, RagingBull.com, LLC shall be entitled to recover attorneys' fees, costs and disbursements in addition to any other relief to which it may be entitled.