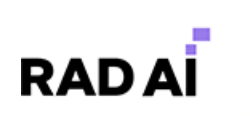 How do you make private investing decisions? What's your history? 
One of the first private investments I made was about ten years ago in a small local startup in the athletic apparel space featured in CircleUp (crowdfunding was new at the time and I was even featured in the Wall Street Journal!) – I was going to the local Crossfit at the time and it seemed like a good opportunity…
…as I was sure this brand would be the next Adidas or Under Armour!
However, little did I know how competitive the apparel business was…and other than some cool swag and that WSJ shout-out, that investment so far hasn't paid off!
I have to admit these early days in private investing were a bit like throwing darts – not really sure what I was doing and hoping one would hit a bullseye.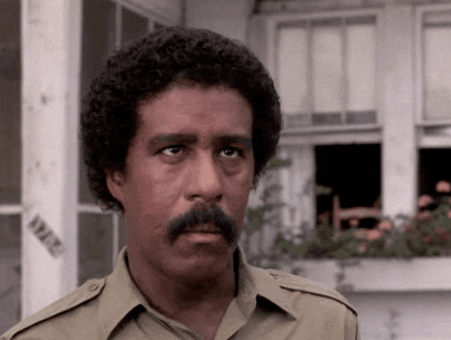 So how have my decision-making strategies in private investing evolved over the last decade or so?  
In a number of ways – but a primary strategy I have come to use is the "second-mover" advantage, where I see where big players in the space are putting their money – using them as a benchmark tends to lend me more confidence. 
One of these big players is Brian MacMahon – founder of Expert DOJO – a venture capitalist accelerator that has invested in over 220 startups since 2018.  
Brian is a PROLIFIC investor who bases his investment thesis on GROWTH.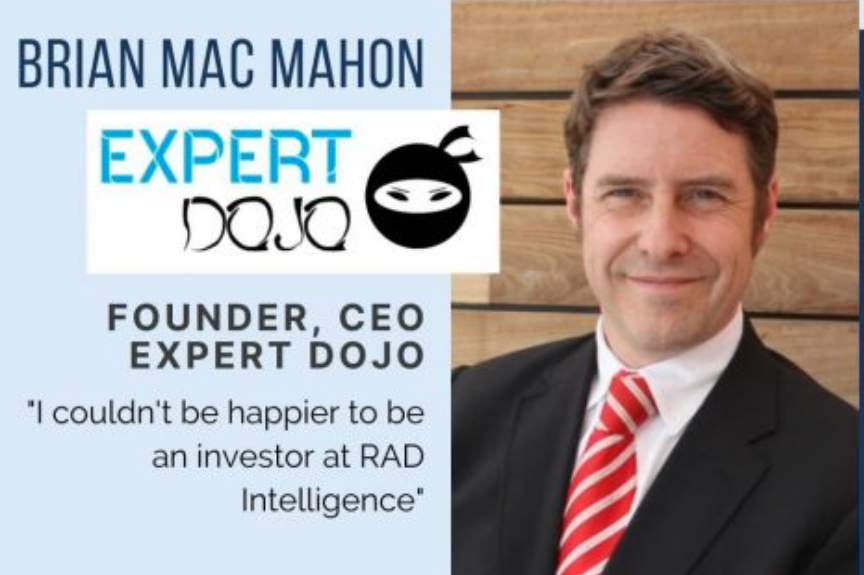 And Brian is a big fan of a company we've been following for quite some time in the Boardroom – RAD AI and its CEO,
Jeremy Barnett.  
In a recent webinar he hosted for RAD, Mr. MacMahon states of Expert DOJO and CEO Barnett:
"We are only looking for exceptional entrepreneurs who show an incredible ability to be able to grow beyond what most other folks can actually do. We've invested in Jeremy over in RAD for full disclosure, and I've known Jeremy for a long time…I'm extremely pleased with how our investment has progressed to this period of time."
He continues:  
"We loved the fact, obviously, that [Jeremy's] building AI into a space which is very hammer and nail like there's no sophistication in marketing, and how it's been built up over the last couple of years…Love Jeremy." 
And Brian MacMahon is not the only prolific investor to put their faith in RAD.  
Check out what RAD's Lead Investor, Joseph Freedman, had to say about the company on RAD's investing homepage: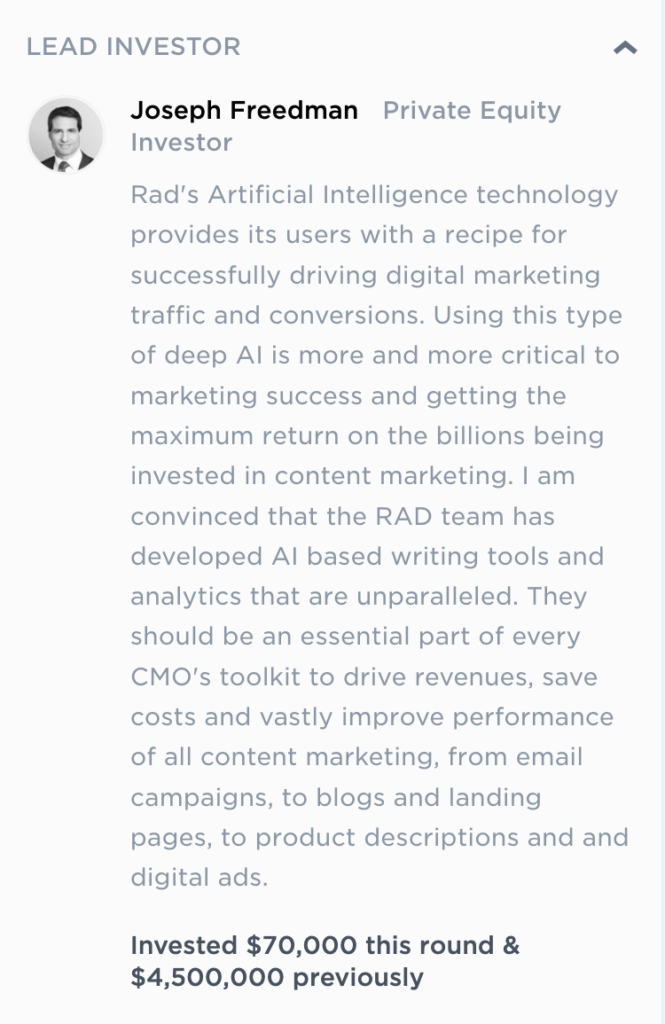 These are great endorsements for both Jeremy and the company, and what I've seen in Jeremy as well since he entered the Boardroom back in 2020.  
So I encourage you to take a deeper look into what these guys are getting behind when backing RAD by visiting HERE – and see if this second-mover strategy might work for you.  

And in our NEXT email for RAD we will bring you additional highlights from Brian's interview with not only Jeremy Barnett, but also Dr. Alex Wissner-Gross and CR Celona – both recent and awesome additions to the RAD team.  
But if you can't wait for our takeaways, you can watch the full interview here.
Happy investing…and as always, please see disclosures below.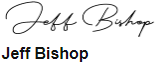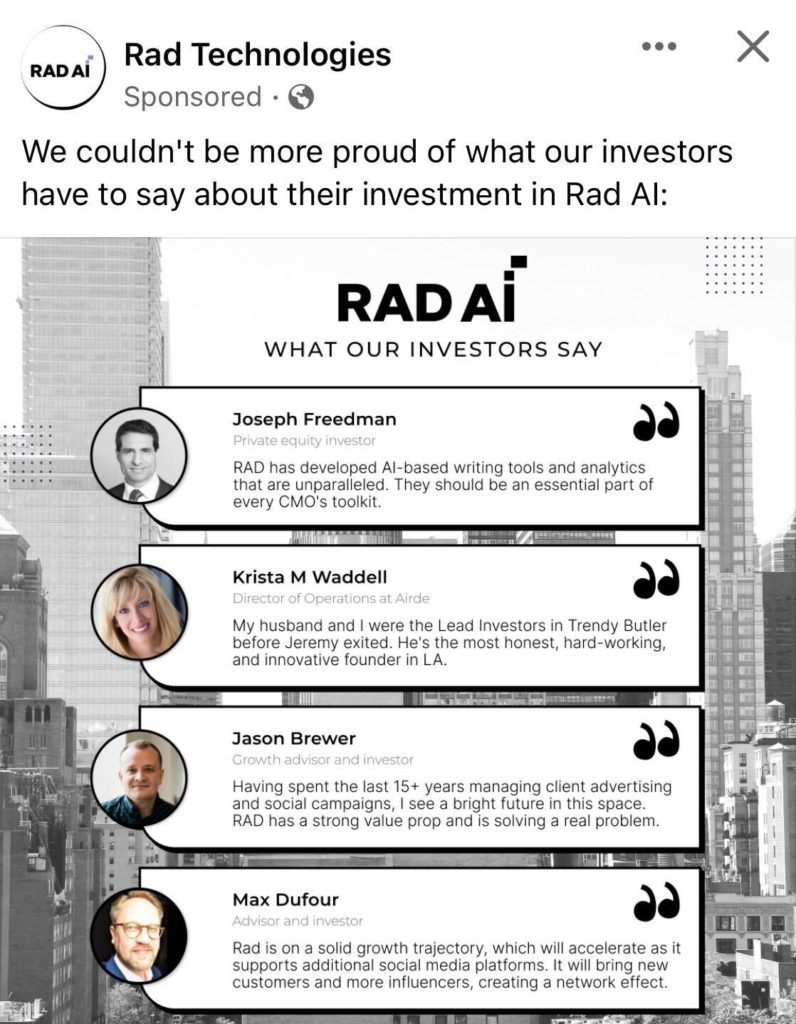 DISCLAIMER: To more fully understand RagingBull.com, LLC's issuer-paid advertisement disclaimer and disclosure policy located at https://ragingbull.com/disclaimer.

ISSUER-PAID ADVERTISEMENT: This Issuer has paid RagingBull.com, LLC ("Raging Bull") twenty five thousand dollars to run advertisements enhancing public awareness of the company. RagingBull is currently invested in this company.

FOR EDUCATIONAL AND INFORMATION PURPOSES ONLY; NOT INVESTMENT ADVICE. Any RagingBull Service offered is for educational and informational purposes only and should NOT be construed as a securities-related offer or solicitation, or be relied upon as personalized investment advice. RagingBull strongly recommends you consult a licensed or registered professional before making any investment decision.

SUBSTANTIAL RISK INVOLVED. Any individual who chooses to invest in any securities of the companies mentioned in this Advertisement should do so with caution. Investing or transacting in any securities involves substantial risk; you may lose some, all, or possibly more than your original investment. Investing in the private companies discussed in this Advertisement is highly risky. There is currently no market for trading or liquidating the securities discussed in this Advertisement and there is no guarantee that a market will develop in the future. Readers of this Advertisement bear responsibility for their own investment research and decisions and should use information from this Advertisement only as a starting point for doing additional independent research in order to allow individuals to form their own opinion regarding investments. It is easy to lose money INVESTING OR trading, and we recommend always seeking individual advice from a licensed or registered professional and educating yourself as much as possible before considering any investments.

RAGINGBULL IS NOT AN INVESTMENT ADVISOR OR REGISTERED BROKER. Neither Raging Bull nor any of its owners, employees OR INDEPENDENT CONTRACTORS is CURRENTLY registered as a securities broker-dealer, broker, investment advisor (IA), or IA representative with the U.S. Securities and Exchange Commission, any state securities regulatory authority, or any self-regulatory organization.

RagingBull.com, LLC shall be entitled to recover attorneys' fees, costs and disbursements. In the event that any suit or action is instituted as a result of doing business with RagingBull.com, LLC and/or its affiliates or if any suit or action is necessary to enforce or interpret these Terms of Service, RagingBull.com, LLC shall be entitled to recover attorneys' fees, costs and disbursements in addition to any other relief to which it may be entitled.