*Sponsored by

We're on the cusp of summer with Memorial Day weekend and if you're anything like me, you fell quite short of where you wanted to be for the neighborhood pool opening.  But…here's to the summer 😎, may the beers be cold and the grills be hot (insert Bud Light joke here).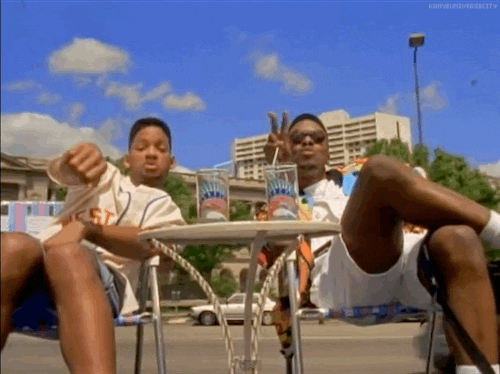 Now onto more serious matters…
Over the past couple of months we've been featuring KingsCrowd in the Boardroom.  KingsCrowd solves the problem that individual investors traditionally have when it comes to startup and private market investing, namely the lack of access to quality information.
In previous emails we've told you about the KingsCrowd research capabilities, how the platform aggregates and synthesizes data from numerous sources and lays it out in an intuitive, user-friendly way.  We presented a case study on how to quickly mine the data based on a few metrics to get an actionable research list of startup companies.  We also touched on how KingsCrowd applies a proprietary rating system to rank the companies in its universe to help investors find the seedlings that are most likely to grow into tomorrow's oaks.
Today I want to go deeper on another aspect of KingsCrowd's business model, one that lets you borrow the brainpower of CEO Chris Lustrino and his team in the form of their investment fund.  
The fund, which at this time is open to accredited investors and invests in 100 startups that the KingsCrowd team has rated the BEST of the bunch, giving you a diversified portfolio of promising startups in one shot.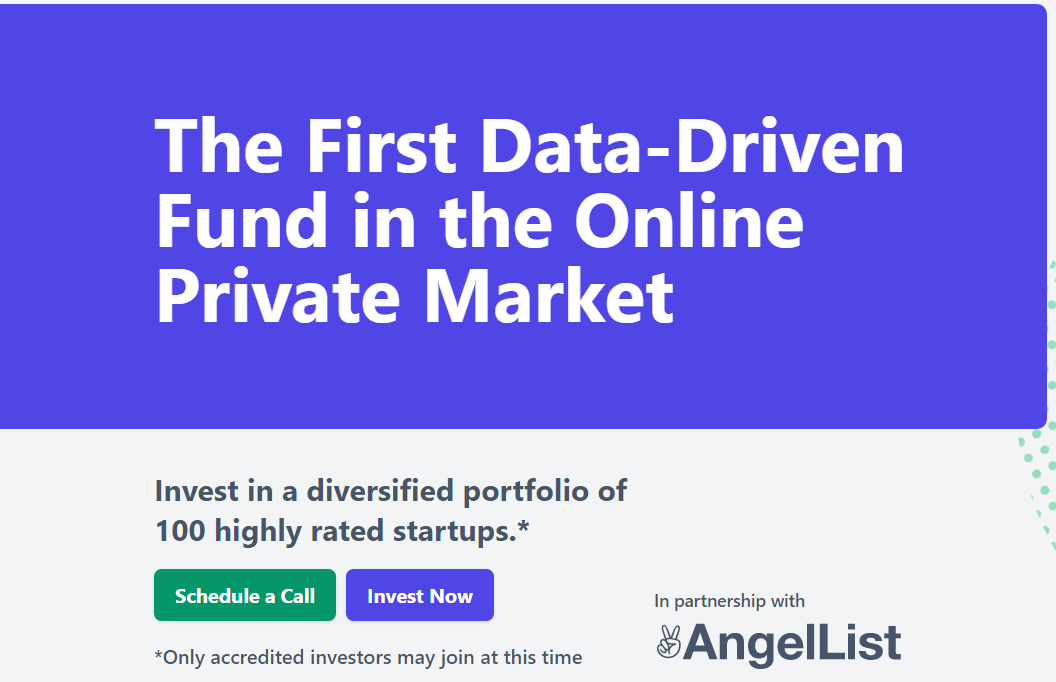 The initial $10 million fund has a 10-year term and is limited to 250 accredited investors. The investments are broken down into three buckets: seed stage companies at 30% of the portfolio, early stage companies consisting of 40% of the fund, and 30% follow on investments to double down on winners.  
Even though KingsCrowd gives you the tools to research startups and private companies on your own, for those inclined to outsource this portion of their investments, the KingsCrowd VC fund looks like an excellent option to get broad access to the private markets.
The fund offers access to private markets including crowdfunding, online secondaries, Reg A+ offerings, and Reg D offerings.  It's the first quant fund in the private market space, which KingsCrowd estimates was $30 billion in 2020 and they expect to grow to $13 trillion in the next 10 years.  
This is a serious first mover advantage, like Henry Ford versus a horse and carriage type advantage.  
At the bottom of the fund's homepage there is a great video that breaks it all down, check it out here.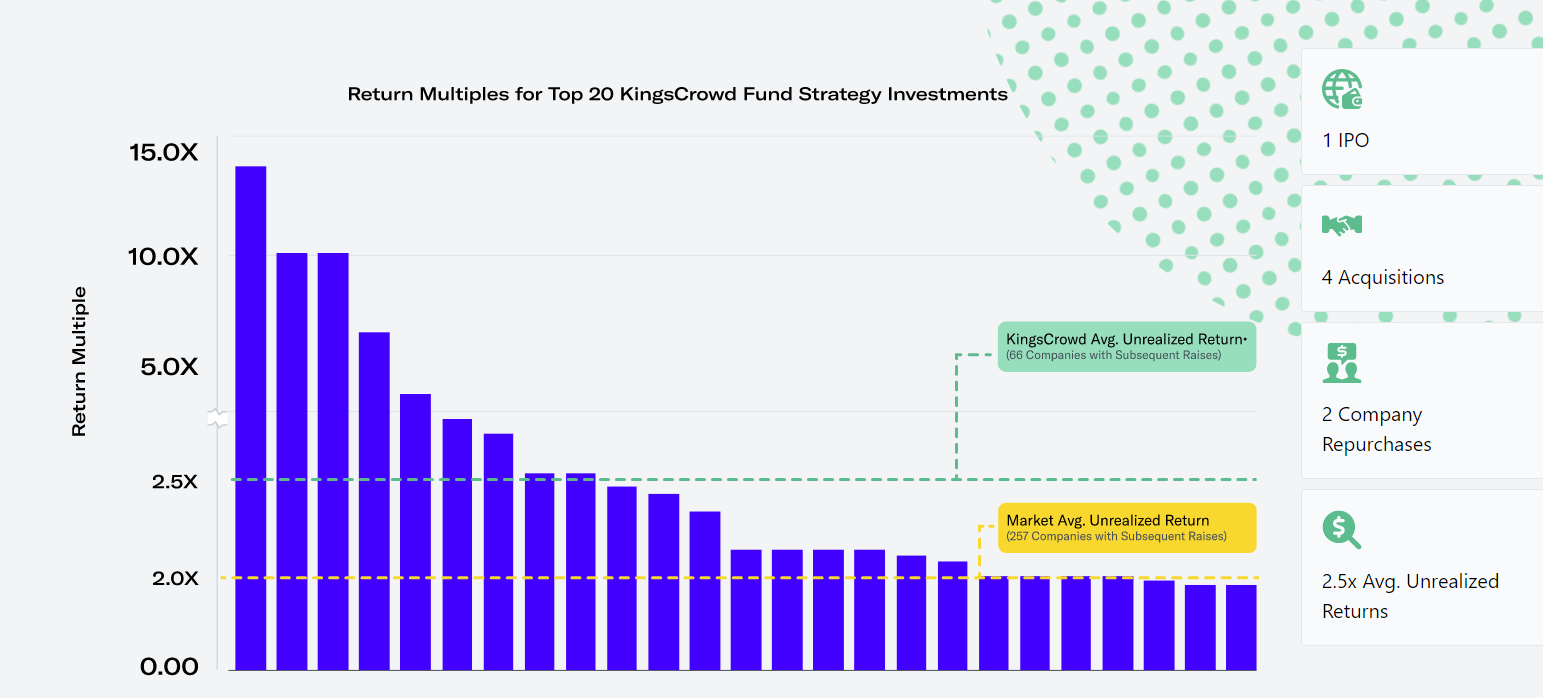 And to get even more insights on the private investment markets from Chris and his team, check out the fund's blog where they cover the macroeconomic landscape as well as tech trends investors need to be aware of such as AI and its role in venture investing.

---
To sum up the ways you can leverage KingsCrowd's game changing platform for your own portfolio:
You can use the platform to research private market opportunities and built watchlists to track performance

You can become one of the 250 investors in the KingsCrowd fund of 100 highly rated startups

You can buy into KingsCrowd itself as an investor
If you didn't know already,  KingsCrowd is conducting a Reg A offering process with shares currently priced at $1.00 each and a minimum investment of $1,000.  Check out the offering here.
This is truly the only game in town when it comes to the private investing space, with multiple avenues to pursue the potentially outsized returns possible.  Finally investors have a way to access previously hard to find information in a single, easy to use platform.  Michael Bloomberg did something similar decades ago with public market information, and it seems to have turned out alright for him!
So I encourage you to check all the details out HERE while this offering is still open.
*Please see disclosures below
---
DISCLAIMER: To more fully understand RagingBull.com, LLC's issuer-paid advertisement disclaimer and disclosure policy located at https://ragingbull.com/paid-advertisement-disclaimer/.
*ISSUER-PAID ADVERTISEMENT: This Issuer has paid RagingBull.com, LLC ("Raging Bull") fifteen thousand four hundred fifty dollars to run advertisements enhancing public awareness of the company. 
**Previous Client.  Boxabl was a previous client in August/September 2022 and paid RagingBull.com, LLC ("Raging Bull") seven thousand nine hundred eighty dollars in cash to run advertisements enhancing public awareness of the company.  
FOR EDUCATIONAL AND INFORMATION PURPOSES ONLY; NOT INVESTMENT ADVICE. Any RagingBull Service offered is for educational and informational purposes only and should NOT be construed as a securities-related offer or solicitation, or be relied upon as personalized investment advice. Raging Bull strongly recommends you consult a licensed or registered professional before making any investment decision.
SUBSTANTIAL RISK INVOLVED. Any individual who chooses to invest in any securities of the companies mentioned in this Advertisement should do so with caution. Investing or transacting in any securities involves substantial risk; you may lose some, all, or possibly more than your original investment. Investing in the private companies discussed in this Advertisement is highly risky. There is currently no market for trading or liquidating the securities discussed in this Advertisement and there is no guarantee that a market will develop in the future. Readers of this Advertisement bear responsibility for their own investment research and decisions and should use information from this Advertisement only as a starting point for doing additional independent research in order to allow individuals to form their own opinion regarding investments. It is easy to lose money INVESTING OR trading, and we recommend always seeking individual advice from a licensed or registered professional and educating yourself as much as possible before considering any investments.
RAGINGBULL IS NOT AN INVESTMENT ADVISOR OR REGISTERED BROKER. Neither Raging Bull nor any of its owners, employees OR INDEPENDENT CONTRACTORS is CURRENTLY registered as a securities broker-dealer, broker, investment advisor (IA), or IA representative with the U.S. Securities and Exchange Commission, any state securities regulatory authority, or any self-regulatory organization.
RagingBull.com, LLC shall be entitled to recover attorneys' fees, costs and disbursements.  In the event that any suit or action is instituted as a result of doing business with RagingBull.com, LLC and/or its affiliates or if any suit or action is necessary to enforce or interpret these Terms of Service, RagingBull.com, LLC shall be entitled to recover attorneys' fees, costs and disbursements in addition to any other relief to which it may be entitled.