It's very common for stocks to make significant moves higher. And one of the biggest mistakes traders make is getting caught up in the FOMO (fear of missing out) and chasing the move near the top when waiting for a retracement would be a wiser play.
So recently, when MYMD shot up from $2 to $5 on heavy volume, we started monitoring for a pullback, and right now there are two important things that we think traders need to look at:
First, right now we believe that MYMD may fit the 'BioRunup' strategy in which biotech stocks often run up into known catalysts.
As we have noted many times over the years, biotech stocks have a tendency to rise in price as they head into upcoming dates for possible FDA approval. This is due to a combination of short-sellers taking risk off the table and covering their positions and speculators opening or adding to existing positions.
This makes sense because FDA approvals can be the biggest driver in biotech stocks' share price, whether good or bad.
As you can see, MYMD may be in what we consider the "runup phase" right now. They have a known catalyst ahead, and the market could be pricing its expectations right now:
Source: BioPharmCatalyst.com
For those not familiar with the Run-Up method, here is the concept:
Biotech companies spend between $325M and $750M from development to approval of a new drug, a process that takes about 8-10 years. This begins with the creation of the drug, then is followed by phase I, II, and III clinical trials- all under the watchful eye of the FDA. Only at this point are some drugs assigned a date, at which approval or denial is to be announced. This decision date is known at least 6 months in advance. The Run-Up method involves locating and buying shares of these companies well before their decision date, riding the share price up, and selling BEFORE the FDA announces their decision. The concept can also be applied to clinical trials with data releases. The goal is simple: Minimize risk while maximizing consistent profits.
Source: BioRunUp
Traders seem to be taking interest in the stock lately and given the catalysts above, we believe that the Run-Up method may be an explanation.
Second, let's address Fibonacci Retracement. This is a tool used to identify support and resistance levels for technical trading.
The concept is simple supply and demand. When a stock makes a move like MYMD just did, from $2 to $5, it naturally cools off and retraces to a support level because buyers start to see risk in chasing the move. This makes retracement levels potentially attractive for new traders speculating that the share price will increase in the future.
The idea is if the 38.2 – 61.8% retracements hold, the initial move is attracting new buyers at elevated Fibonacci support levels. The less retracement, the better because that suggests traders want to pay more to get in the stock.
The first level seen here is 38.2% retracement, suggesting that traders are accumulating this support looking for the next move. If a stock retraces past the 61.8% level then it tells us traders aren't willing to pay any reasonable level of retracement.
With MYMD holding above $4 (the first level of fib retracement) for over a week now it may not happen but we see this as a potentially bullish sign.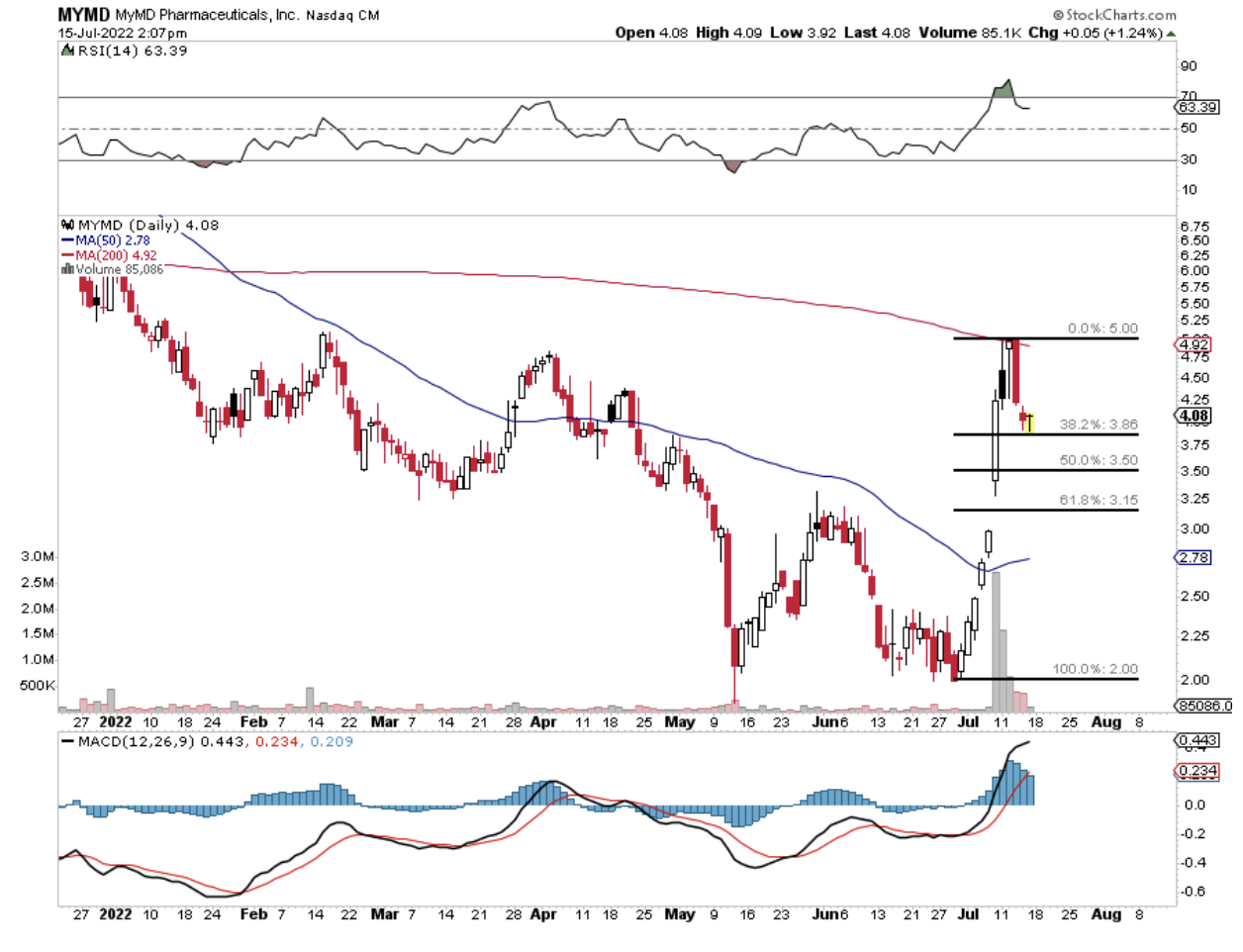 As traders, we look for clues on why a stock is moving higher and more importantly, why it might continue to move higher. The BioRunup method is well known to traders as is Fibonacci. Stocks move due to demand and catalysts are the things that cause demand. Upcoming catalysts and strong accumulation could bode well for MYMD here.
Of course, no strategy is foolproof and investors could lose money investing in MYMD now, but as we learn not to chase moves but instead buy support zones, Fibonacci is the tool we often refer to. And as we try to understand whether a stock will continue or not, upcoming catalysts are seen as potential drivers.
Right now MYMD meets both of those, so we may be biased and its by no means a sure thing but we like it*!
DISCLAIMER: To more fully understand RagingBull.com, LLC's issuer-paid advertisement disclaimer and disclosure policy located at https://ragingbull.com/paid-advertisement-disclaimer/.
*THIS IS AN ISSUER-PAID ADVERTISEMENT, SEE DISCLOSURE BELOW
Issuer-paid advertisement.:MyMD, Inc. ("MYMD" or the "Company") HAS PAID OR
WILL PAY SHERWOOD VENTURES, LLC ("Sherwood") TWENTY-THOUSAND DOLLARS USD PER MONTH FOR THREE MONTHS (THE "INITIAL TERM") IN CASH, SHARES OF RESTRICTED COMMON STOCK WITH A VALUE OF ONE-HUNDRED-FIFTY THOUSAND DOLLARS, AND WARRANTS VALUED AT ISSUANCE OF SEVENTY-FIVE THOUSAND DOLLARS FOR MARKETING SERVICES INCLUDING COMMUNICATING TO THE PUBLIC ABOUT THE COMPANY THROUGH SHERWOOD'S AFFILIATE RAGINGBULL.COM, LLC ("RAGING BULL"), AMONG OTHERS. THIS ADVERTISEMENT IS PART OF THOSE ISSUER-PAID MARKETING SERVICES. FOR DETAILED COMPENSATION AND MORE INFORMATION, PLEASE SEE THE FULL DISCLOSURE LOCATED AT HTTPS://BOARDROOMINVESTING.COM/MYMD-DISCLAIMER.
FOR EDUCATIONAL AND INFORMATION PURPOSES ONLY; NOT INVESTMENT ADVICE. Any RagingBull Service offered is for educational and informational purposes only and should NOT be construed as a securities-related offer or solicitation, or be relied upon as personalized investment advice. RagingBull strongly recommends you consult a licensed or registered professional before making any investment decision.
SUBSTANTIAL RISK INVOLVED. Any individual who chooses to invest in any securities of the companies mentioned in this Advertisement should do so with caution. Investing or transacting in any securities involves substantial risk; you may lose some, all, or possibly more than your original investment. Investing in the private companies discussed in this Advertisement is highly risky. There is currently no market for trading or liquidating the securities discussed in this Advertisement and there is no guarantee that a market will develop in the future. Readers of this Advertisement bear responsibility for their own investment research and decisions and should use information from this Advertisement only as a starting point for doing additional independent research in order to allow individuals to form their own opinion regarding investments. It is easy to lose money INVESTING OR trading, and we recommend always seeking individual advice from a licensed or registered professional and educating yourself as much as possible before considering any investments.
RAGINGBULL IS NOT AN INVESTMENT ADVISOR OR REGISTERED BROKER. Neither Raging Bull nor any of its owners, employees OR INDEPENDENT CONTRACTORS is CURRENTLY registered as a securities broker-dealer, broker, investment advisor (IA), or IA representative with the U.S. Securities and Exchange Commission, any state securities regulatory authority, or any self-regulatory organization.